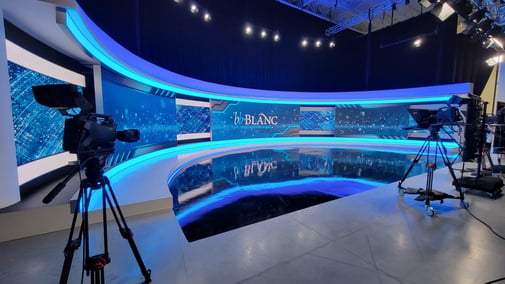 When you're all about Creating Event Magic, there's no time to sit back, relax and take it all in.
Since 2008 bb Blanc has continued to push the limits, drive innovation, and work towards ensuring our clients' event experience, is unlike any other.
As events have continued to evolve, so have we.
In 2020 we quickly identified the need to support our clients with a broadcast solution. Our safe, spacious, and state of the art presentation stages were it. In fact, we even won a Canadian Event Award for Studio A in 2021.
Not knowing what the future of events would hold, in the fall of 2021, our dedicated, collaborative, and inventive Project Management Team came together, and with hundreds of events under their belts, compared notes on the good, the not so good and the "what could we do differently" to create an even greater impact going forward.
In December 2021, a 86' x 70', or 6020 sq/ft space within our facility, was brought down to the bare bones, and built back up based on the recommendations of the team.
The result is Studio 41.
In fact, the team has identified the "sweet spot" for your presenters, so they look good Every. Single. Time.
Fast facts on our new Studio:
# of LED tiles = 232
# of cameras = 3
# of lights = 26 pars, 4 sky panels
# of monitors – 34
# of laptops - 45
# of LED strips – 896'
Length of cable – 12,000'
All this wonderful technology is supported by 15 technical stations, designed by our team, to better support your event needs.
Read on to find our more of what each station is comprised of and insight on what benefits they provide for broadcast events.
Virtual Technical Support Station
This area is set as a "help station" for any attendees who may be experiencing technical issues.
Should any attendee experience any challenges with login, audio, or video , a dedicated member of the team is suited here.
Streaming Station
This station is charged with streaming out the final product to the end web portal or virtual event platform.
It comes complete with main and backup stream computer to ensure redundancy, and all equipment has a battery backup
Zoom Station (aka Virtual Presenter Station)
This area allows for two-way communication between in studio presenters and virtual presenters. Whether you are using Zoom, MS Teams or otherwise, this is the spot to communicate with them.
It is currently configured to support four (4) virtual presenters at a time. This can be expanded and built upon up to whatever the identified event needs are.
Event design is key. Knowing the number of presenters and where they will be is a fundamental element to ensuring your event success.
Graphics Station
This area is responsible for all PowerPoint, Keynote, Video playback, and lower thirds. We have included redundant laptops as backup.
Video Switch Station
This station controls the switching of video inputs for the final stream product. Any Layouts, Picture in Picture (PIPs), and source switching are all done here.
Editor Station/ Client Station
This station serves as a place for video editors to focus and make editing notes for the footage that is being recorded.
We have ensured this area is equipped with a camera graphics multiview monitor to display all cameras and the line cut. It also includes Hardwired Internet and a Show printer for all those last-minute updates and show needs.
Client Station - A space just for you!
This area is set for clients to have an immersive experience within their event. We have included monitors for multiview and program feed as well as Clear-Com for communication.
This space too, includes Hardwired Internet and a Show printer.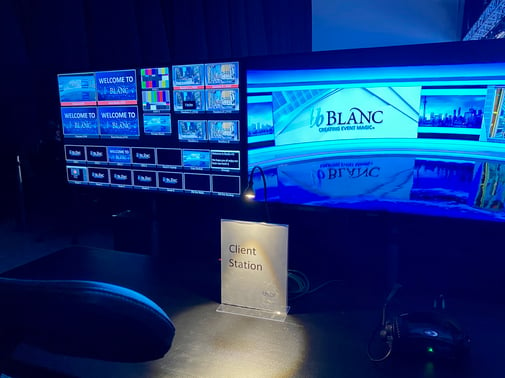 Show Caller Station
This station is equipped as an information hub.
It has both a graphics multiview and camera multiview, as well as a program monitor.
It includes A/B channel Clear-Com for the ability to communicate with both show staff and camera operators, as well as a Speaker timer control.
The person in this location is in control of the entire show.
Camera Switch Station
This area is responsible for all things camera related such as shading and calibration, camera calling, camera cwitching and the all-important, recording.
Multimedia & Lighting Station
This is the creative area for your show. All lighting elements and digital scenic backgrounds are set and controlled from here.
If you want it to be spring and bright, we can do that. If your event calls for awards glitz and glam, we can do that too.
Audio Station
When it comes to events, good, clean audio is paramount. All things audio are mixed from this station.
Everything from the Live mics in studio, to virtual presenters, video playback audio, music playback, live acts, stream audio (what the folks out in the virtual space will hear) and recording audio.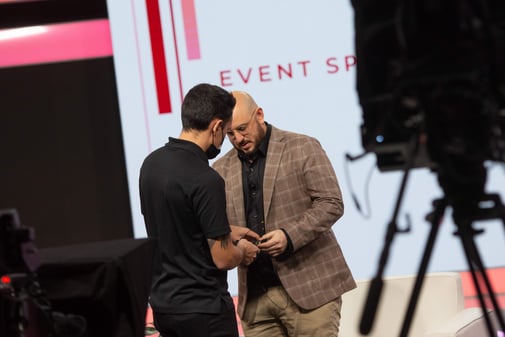 Stage Manager / Director Station
This area is equipped to provide a location for a Stage Manager or Director. It comes complete with a camera multiview monitor and a program monitor.
This space allows the individual to see the camera shots as well as review recorded files.
Teleprompter Station
When it comes to virtual and hybrid event, helping your presenters be their best is important. Teleprompters can help.
This station is setup for the teleprompter operator. It is positioned to provide a solid view of the studio stage area to enable a clear line of sight to the presenter(s).
Client Q&A Station
This area is designed as another client station in the studio space, however because of its orientation, it allows for easy access and direct communication to any onstage presenters with a direct line of sight to the respective presenters.
It is also equipped with a multiview monitor as well as a program monitor.
Built with your successful events in mind.
Fifteen (15) ample spaces, all with a minimum 6' table (space matters!) and a comfortable chair, and all are intended to help you design and execute the best event possible.
Whether virtual, hybrid or even in-person, these well-designed support areas will continue to set the bar for great events.
Want to experience it for yourself? Book your in-person tour here and take advantage of our team knowledge and expertise.
We look forward to #CreatingEventMagic with you.
"Creating Event Magic" is our guiding philosophy. Founded in 2008, bb Blanc is a Canadian-owned and operated live event company supplying award-winning audiovisual/staging production and entertainment to both corporate and social event markets.
Whether it is virtual, in-person, or hybrid, our team is here to support your unique event needs.
bb Blanc is committed to showcasing a clients' vision with a personal touch.