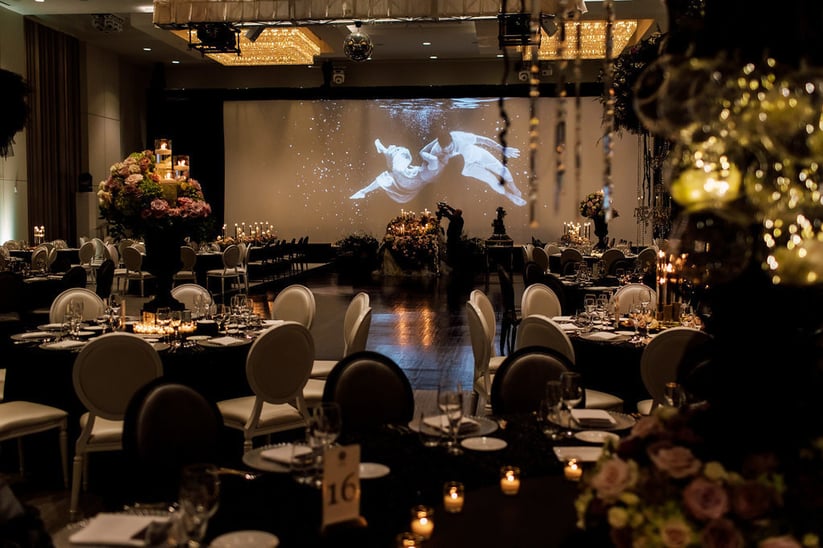 One of our favorite trends is incorporating technology to make your event standout, tell a story, and create a unique experience. Why do we love this - its different, and we live for creating something magical ✨
What is a Videowall?
Where some may chose to drape, or hang flowers to enhance their space, we create a feature walls using video backdrops.
A videowall or video blend is a combination of a large screen surface, usually 60' + depending on your venue and multiple high quality projectors which are blended to project your content seamlessly onto the screen to look like one image. With the capacity to show case either photos, videos or a mix of both you can transform your space into a whole new world.
Tell me more...



A video wall is a statement piece, something to set the entire event apart and transform your room. To tell a story, bring your guests on a journey. Whether you want them to dine in the Tuscan Country side for the evening or watch the sun set in California, no vision is too big or too small.
A video wall is used as a feature backdrop for a head table. We use rigging points to hang the screen from the ceiling, and mask the perimeter of it in white or black draping. Then we custom rig (hang) multiple projectors in the ceiling to project that content on to the screen.
The misconception people have is that technology is not as impactful as flowers and décor, we beg to differ. This is a statement piece that will set your room apart, compliment your flowers and other decorative elements. This certainly takes center stage.
The #1 advantage to having a video wall is that you control the pace that your story unfolds, no two scenes need to be the same. For example, lets say your theme is Italy, you can start in one city and as your course changes, go to another city. A plate of pasta can be enjoyed in Venice, while you feast on steak in Florence. When its time for speeches or parent dances, surprise your guests by going down memory lane or sharing your favorite memory with that person. We hope this shows you that this is not cookie cutter, and not one size fits all. This should be a reflection of you, your love, vision for the day and a feeling you want to create.
Read the reviews...
Thank you so much for all your hard work and efforts for our wedding !! You guys really helped bring this video wall vision to life !! I'm super appreciative of your patience and working with me while we put together the content!!
- Anastasia & Moe
We wanted to reach out to say thank you so much for everything you did to make our wedding/reception amazing! That video wall magic was incredible and our guests were all amazed. Our families were getting so many compliments on how amazing the back drop looked! You guys are awesome! You were so great to work with and we can't wait to get our pictures and videos back to see it all again! Also the DJ graphics during the dance floor looked wicked. We honestly missed some of it because we were so busy but I saw lots of videos of the wall from family and friends! Thank again for everything. That was honestly the best decision we made for the wedding!
-Neelam and Viraj
If ambiance is really important to you then BB blanc is the company you want to book with. They really do create event magic. I had a winter wedding theme and they literally made that come to life. They set up an 80ft video wall, along with all of their speakers/lighting equipment seamlessly. I had a very specific vision that I wanted, and they offered there professional input to help execute it.

They also provided the DJ and MC services, which were amazing! Put it this way, I had a full dance floor until the lights turned on.

If you have any hesitation about booking with bb blanc I can rest assure you that they will not disappoint.
-Shana & Orlando
So
What's
Next?
Book a call with your bb Blanc contact to chat the details, investment and big picture.
once you lock it down:
- Choose your theme
- Streamline your content/ vision
- Create your agenda / timeline with your content in mind