When it comes to wedding planning, it's important to be realistic and understand every element that goes into design your dream wedding. Recently, we were invited to Corinne MacDonald's VIP Collective Podcast to talk about the ins and outs of AV and lighting for weddings and the difference it makes. Here are some major take aways from Rennie's chat with Corrine.

The Benefits of Using the In-house Vendor
This a debate as old as time and as we can't speak for every in-house vendor, we can tell you about the perks about using our in-house team at our partner venues.
Built-in equipment that is hidden within the ceiling and walls for minimal footprint to leave room for dancing and decor. It maximizes your space.
Cost savings galore. By using built-in AV equipment, you save on bringing in one-off equipment that would increase labour and delivery costs.
Get more lighting for less. Take advantage of all built-in fixtures opposed to paying per fixture (and install).
The Importance of Quality Lighting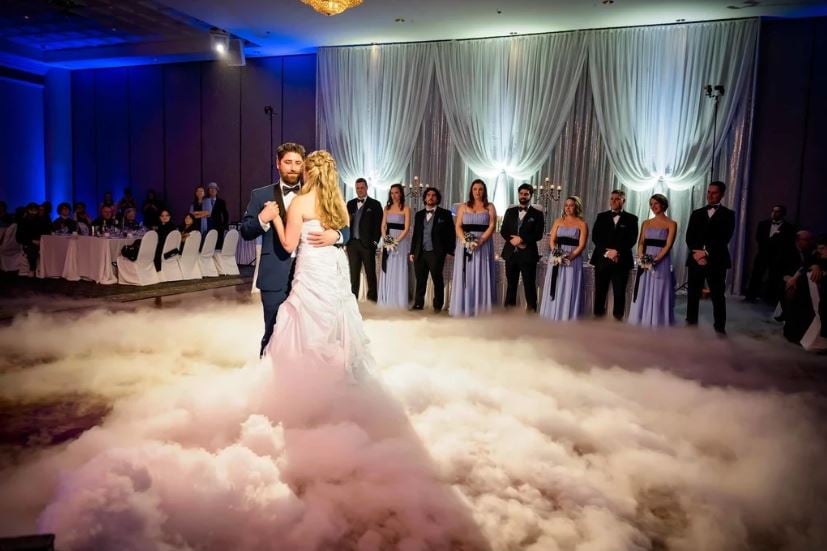 Great lighting is something you benefit from for years to come. Besides creating amazing ambience, great lighting benefits you photographers and videographers.
"For example let's speak for film, the father of the bride is going to go up and say his speech. We're going to backlight him, we're going to spot light him, so that when you film him and they're going to watch that over and over, over the next 5 years and into the decades, he's going to look fantastic"
-Rennie
President & CEO, bb Blanc
Budget for Audiovisual Early On in Your Planning Process
We hear it over and over again that this seems to be a surprise expense. For many couples, their wedding is the first major event they're planning and they don't know what they don't know. They see all their inspo pictures on Pinterest and Instagram and don't realize all the elements that went into it to create that look. Almost every time, lighting is an important element. Are you going to have speeches or music? Of course! that requires Audio. That's why it's important to include Audiovisual on your initial wedding budget and depending on your space and requirements you should budget around $1,500-$6,000 for these services.
Trust The Experts
bb Blanc is an award winning, live events company based in Toronto. We pride ourselves on "Creating Event Magic" through the use of the latest technology for audiovisual and staging production, presentation support as well as through a number of talented live entertainers.Pick our brains for advice, and how to get the most out of your audiovisual services for your big day!