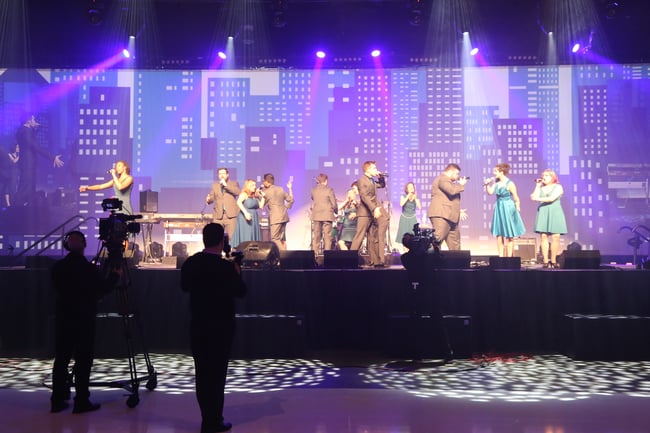 You've set the date, selected the venue, and established that live music is where it is at.
Incorporating a band gives you a unique opportunity to create a memorable experience for you and your guests. What next?
Be sure to discuss your band requirements with your audio visual and production partner.
These folks have a wealth of experience and knowledge available just for you. Leverage it.
To give you a better understanding of what you will encounter, we've gathered some information to get you started.
When working with live performers there are a few key points to keep in mind to ensure event success.
Staging

Creating a memorable experience means including a single focal point, or several, for portions of your event. Staging is a great way to do this and highlight your entertainment.
Single tier, double tier, coloured, plexi, back-lit, all of these options are available to you.
Take some time to check out what others have done, look at samples, and find the best option for your overall look.
Your audio visual/production partner can guide you in selecting a stage that will provide the best solution for you and your entertainers' needs.
Your band should confirm the stage requirements they will need (spacing, height, etc) and your production or audio visual partner can provide the actual requirements themselves.
Your band's staging requirements can often be found in the band's rider or contract fine print.
Size, height, placement are all factors that will need to be determined. Ensuring everyone is on the same page from the start will save time and energy down the road.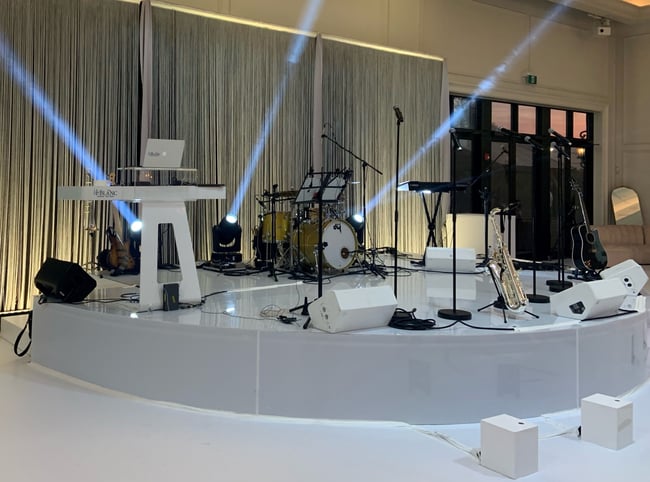 Power

Technology and entertainment require power. What exactly does your band need to ensure all works as it should?
Is venue wall power sufficient? Do you need additional power drops? If you event is outdoors, will generators need to be brought in?
To avoid a broken telephone scenario, ensure the band speaks directly with your production partner. When they "speak the same language", solid solutions will be in place allowing for the best overall experience for you and your guests. And will likely cost you less in the long run too.
Self-Sufficient?
Will your band require support in the form of equipment?
Find out if they are bringing their own band gear (equipment) or will your audio visual/production partner need to provide that too? If you are working with an official on-site audio-visual production partner, they can often take equipment from the on-site warehouse, rather than spending time to send a truck to pick up from elsewhere.
If the band is bringing their own equipment, you still need to let others know. The band gear will need to be "patched" or fed into the built-in or "house sound" system at your venue to provide better coverage, providing ample sound throughout.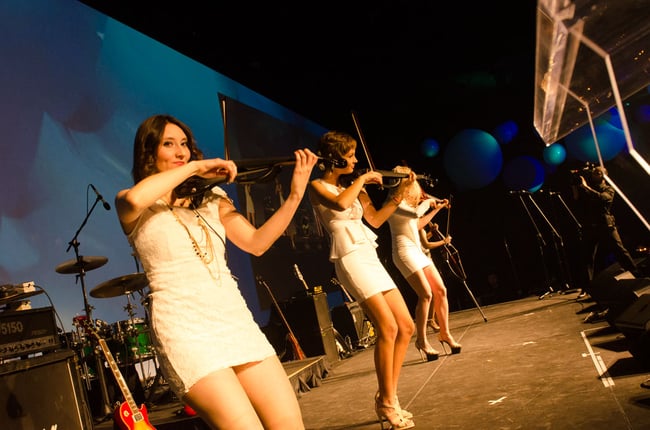 Give some thought and consideration as to where you want the sound. Do you require sound only within the ballroom or event space, do you need it elsewhere, such as outside or in the foyer as well?
Do you want your sound to carry over to places like the lobby, washroom, or patio? If so, considerations and connections will need to be included there are well.
Make your expectations known. Then key plans can be made well in advance, ensuring everyone knows what they need to do.
Communication is key.
Without solid plans and set expectations, many of these pieces that will allow your band to be at their best, could be overlooked.
Bands can transform your special day into an unforgettable event.
Choose partners who can support you and their needs.
We work with you to ensure your day is your way.
Connect with team bb Blanc to discuss your needs today.
"Creating Event Magic" is our guiding philosophy.
Founded in 2008, bb Blanc is a Canadian-owned and operated live event company supplying award-winning audiovisual/staging production, live entertainment, and technical support for memorable event experiences.
Whether in-person, virtual, online, or hybrid, bb Blanc is committed to showcasing your vision with a personal touch.
Connect with us today.