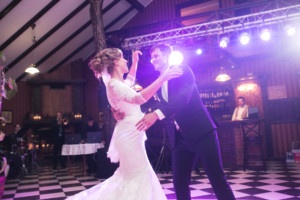 Weddings of all sizes are big events. Part of what makes a wedding memorable—besides the loving union of a couple—is the reception or after party. For a wedding planner, arranging entertainment and/or audiovisual elements can sometimes be more involved than planning the actual ceremony. This is why wedding planners often work together with Toronto's event production companies to ensure that the wedding entertainment goes off without a hitch and everyone has a magical and enjoyable night.
How Event Companies Work With Wedding Planners
Event companies understand entertainment, meanwhile the wedding planner understands the tastes of the couple, the budgetary guidelines, and the details of the venue. Wedding planners often rely on event companies to contribute their own expertise and knowledge, which could include anything from the type of lighting used to the live entertainment to the DJ's playlist. As the final plan emerges, the event production company brings the equipment, manpower, and acts (if any) together to pull off an evening of entertainment guests won't soon forget. It is their job to make the wedding planner's vision a reality.
bb Blanc's One-Stop Wedding Event Planning Services
bb Blanc is a proud provider of everlasting memories and can help arrange the best wedding entertainment possible. As one of the top event production companies in Toronto, we take great pride in our full selection of services and options for our customers.
Lighting
Well executed lighting is a powerful but inexpensive way to create the desired mood for an event. Whether you want things to pop, dazzle, inspire, or entertain, there is a way to do it with light. Careful pin lightning can highlight specific features like table centerpieces, up lighting casts an air of elegant sophistication, moving lights can be programmed to synchronize colours, patterns, motions, and more, and gobo lighting lets you project patterns, shapes, or whole images onto other surfaces for that extra bit of customization.
Wedding DJs
Music isn't just about finding the right playbook. Providing the best musical experience for a wedding requires a DJ who can read the pulse of a dance floor and the flow of the evening to introduce or extend songs so momentum is guided and seamless. bb Blanc has an extensive musical library to draw upon, including multinational music and cultural songs so no one has to miss out on hearing their favourites.
Entertaining MCs (EMCs)
These hosts with the most can help guide the overall pacing of the wedding, coordinate with entertainment and venue staff, introduce speakers, and engage with guests so that everything stays on track. EMCs excel at making sure everyone feels included in the wedding festivities and they work from your directions. We are particularly good at providing EMCs to meet any cultural or multinational requirements as well.
Live Entertainment
Although DJs are common for weddings, they are not the only form of entertainment available. Would you like to glide down the aisle accompanied by a live harp melody? How about a saxophone solo? Or even a Broadway (or Bollywood) inspired dance number with the entire wedding party? All of this and more can be arranged and provided. Among bb Blanc's many forms of live entertainment are harpists, flutists, guitarists, pianists, saxophonists, drummers, combo acts, cocktail singers, illusionists, dancers, and even fire acts. Whatever is needed to create true event magic, we can provide.
Wedding Photo Booth
This is exactly what it sounds like: a photo booth, just like the ones you see at the mall, but at your wedding. There is something about the enclosed nature of a photo booth that brings out an extra bit of fun and personality in people, which can translate into amazing memories and pictures. Choose from a selection of backgrounds, strike a pose, and let the shutter snap.
Stage Risers, Stairs and Podiums
The stage can be a key setting piece in establishing the atmosphere of a room and the tone of an event. Whether you want a stunning crystal podium, a red carpet riser for an awards show feel, or any other form of taste and personal expression, it can and will be arranged.
bb Blanc is an award winning, Canadian-owned and -operated company specializing in "creating event magic" for Toronto-area weddings through the use of the latest technology, top-quality entertainment, and talented lighting and audiovisual professionals. For more information on bb Blanc and the unique additions we can bring to your weddings or other gatherings, visit us at www.bbblanc.com, call us at 416-360-0440 or email us at info@bbblanc.com.