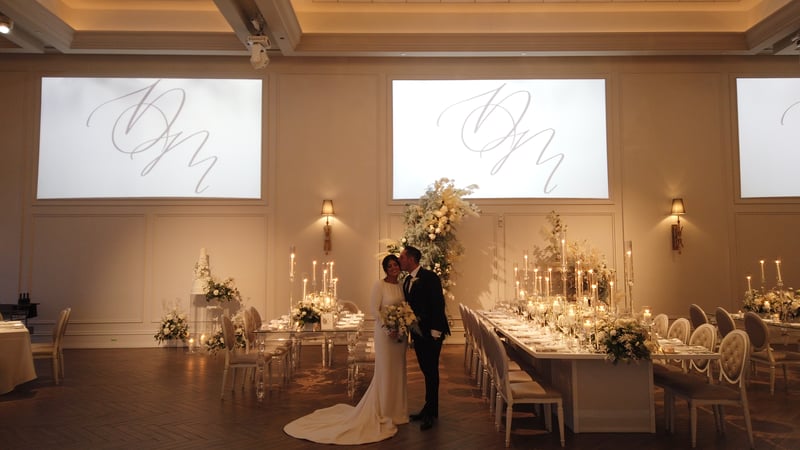 Venue: The Arlington Estate (west wing)
Planning: Fab fete Michelle
Florals: Precious Flowers
The Vision: Timeless & Elegant
Deanna & Marc's wedding was dreamy. The perfect word to describe their florals, candles and layout. They had a beautiful floral head table backdrop from Precious Flowers, which gave a frosted look to their room matching the weather to a T. The warmth of the room truly created such an elegant feel with candles everywhere the room was well lit.
We get questions all the time of how the lighting will impact table centrepieces - this set up was the best visual explanation of table lighting and candles as part of the centrepieces. A bb favourite is the bar on the dance floor, with the entertainment close by and that's exactly what we saw that night.
To top it all off they had a singer during dinner which added a soft lively touch to dinner, with a special late night drummer to keep the party going All Night Long…!
Get the look:
In House Audio
In House Lighting (moving lights & pin lights)
In House Video + Digital Signage (Lobby, Bathrooms, Outside Estate)
Music Stylist/Host (DJ)
Late Night Drummer
In Deanna's Words...
"OMG! What can I say except a HUGE THANK YOU TO bb Blanc! Our wedding would have been nothing with out DJ John, Alessandro and all of you! John was absolutely fantastic and really kept our guests happy and moving, it was great! Everything from start to finish with you and your team has been AMAZING! Thank you for making our day that much more memorable Marc and I really appreciate! You guys are the best <3"