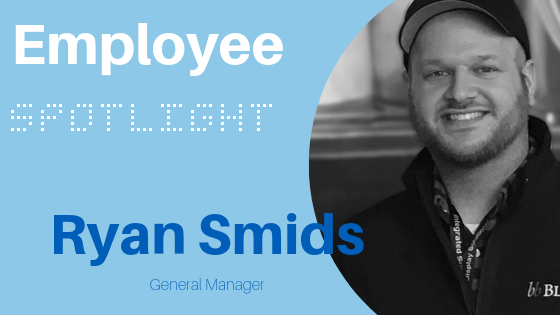 Ryan Smids is a dedicated member of the bb Blanc team with some exciting news. As of July 1st, 2019, Ryan has taken on the role of General Manager at bb Blanc. Ryan started his career after graduating from Metal Works Institute as a Freelance Technician with an affinity for audio engineering. Since joining bb Blanc as Operations Manager 7 years ago, he has had his hand in producing thousands of successful events and has come to be a rock for both clients and the teams he manages. "Ryan is a pillar of calmness on our team, well respected, level headed, with a no nonsense approach to getting things done. He exemplifies our companies core values and holds our core purpose of Creating Event Magic to the highest standard. He has a tremendous thirst for learning and improving and I look forward to having Ryan by my side as we take bb Blanc to new levels of success in the future" says President and CEO Rennie Colelli.
Congratulations Ryan!
We caught up with Ryan to learn a little more about what drives him both professionally and personally.
What are three things left on your bucket list?
Going to and from work in a self-driving Tesla
Sky Diving
Travelling Europe for an entire summer with my Family
You're happiest when?
I'm happiest when I'm traveling. It can be exploring nature on hikes or more fast paced like ATVing in the summer and snowboarding in the winter.


What was your first day at bb Blanc like?
It was exciting because it was a brand new opportunity and challenge for me. After spending most of the day with the owner Rennie Colelli and understanding where the company was headed, I quickly confirmed that I had stumbled upon a very special new home.

What drew you to the industry?
I have a background as a musician so the attraction to the events industry was fairly magnetic. I instantly was drawn to the experience part of the event, I love how every event is custom designed and can tailor a completely unique experience depending on how well it is done.

What excites you the most about the future of the industry?
The future of this industry is very exciting. Technology is evolving and progressing quicker and quicker, and I can't wait to see the changes that will happen in my lifetime.


If you were a hashtag what would it be?
#CalmAF Or #Clutch