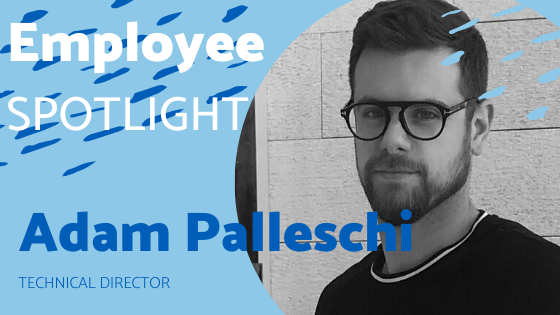 Adam is a real OG when it comes to the bb Blanc team. Adam has been with the company since its inception (from the garage to where we are today). During his tenure, Adam has been a big part of our growth, success, and has been a driving creative force for bb Blanc. "As our first and longest standing employee Adam embodies the core values that define bb Blanc…Passion, Professionalism, Accountability and Creating Event Magic! He is a pillar in our organization with a bright future, I have no doubt he will become a driving force in this amazing industry we love being a part of" says bb Blanc President & CEO, Rennie Colelli.
We caught up with Adam to learn a little more about what drives him both professionally and personally.
What are three things left on your bucket list?
Travel and stay at every Four Seasons Resort worldwide
Drink a bottle of Roman

é

e Conti
Fly Private
You're happiest when...
I must say that there are several things that make me happy. Traveling to great places and exploring. Trying new restaurants, but also enjoying a home cooked meal. Furthermore, when I have the time to create, build, or design something awesome.
What was your first day at bb Blanc like?
It was back in 2008, I can hardly remember, so much has happened since then. However, from what I can recall, it was spent un-packing and preparing new equipment in preparation for our first show the following day.
What drew you to the industry?
I always had an underlying passion for this industry, I began at an early age in elementary school. I think what drew me in most was the uniqueness and creativity that surrounds this industry. Additionally, I must say, there are a lot of great people working in it, all with an interesting story. It defiantly creates a fun working atmosphere to be in.
What excites you the most about the future of the industry?
Needless to say, a large part of my excitement for the future lies in new technologies. But more so with regards to what will create the next paradigm shift. In the past we seen line array technology completely transform the way large format PA was used and the sonic quality that was subsequently heard, or how the invention of the moving head fixture revolutionized lighting design, and moreover how LED video wall technologies have come to dominate stages and set design globally. It intrigues me to think about what will come next and be readily available in our market.
If you were a hashtag what would it be?
#proceedandprogress
Is there a quote that inspires you?
"First, think. Second, dream. Third, believe. And finally, dare."
-Walt Disney
"Passion will make you crazy, but is there any other way to live?"
-Howard Hughes