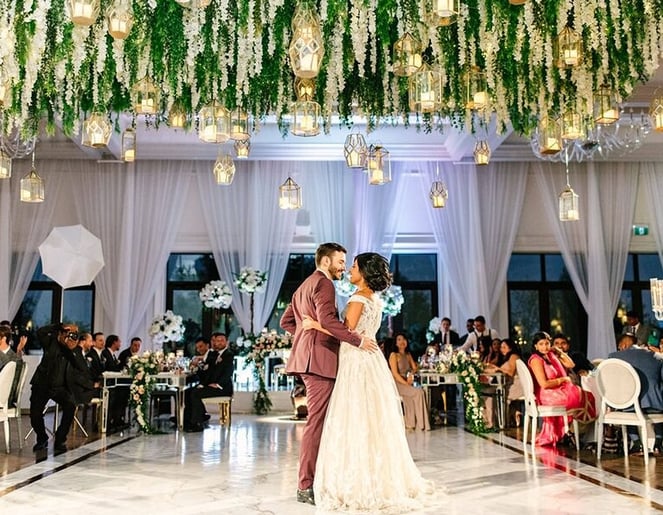 Ceiling décor continues to be a trend when it comes to weddings, galas, and milestone events. It provides a timeless and elegant atmosphere, enhancing the event overall. Not to mention allowing for more space for other elements, such as dance floors.
In the world of events, getting items like décor/lighting/audio into the air, and above your head, is known as rigging.
Whether it is motorized lanterns that move with the music or a large floral arrangement over the dance floor, raising the height of your elements makes statement.
When it comes to understanding the how and why of rigging, there are a few key terms to keep in mind:
Cabling: These cables provide power, signal, and networking for all the equipment. They are carefully run along the truss for overhead equipment and on the floor for the rest.
Motors: Attached to the rigging point and the truss, these small machines allow technicians to lower the truss to connect the equipment, then raise it back to the ceiling.
Rigger: A specialized technician that hangs equipment and other truss supported items from the ceiling.
Rigging : When equipment/material is temporarily or permanently suspended or attached to the ceiling of a venue. The equipment could be suspended using chains, steel cables, or hoisting equipment.
Rigging Plot: This is a diagram that shows where the rigging points are and where equipment can be hung from the trusses throughout the room.
Rigging Point: Designated places in the ceiling where equipment can be hung. These areas are regulated and maintained to ensure the weight limits are appropriate.
Truss: The metal framing attached to the ceiling by the motors and the rigging points. All equipment and materials including but not limited to: lighting, projectors, speakers, florals, and their associated cabling are attached to this frame.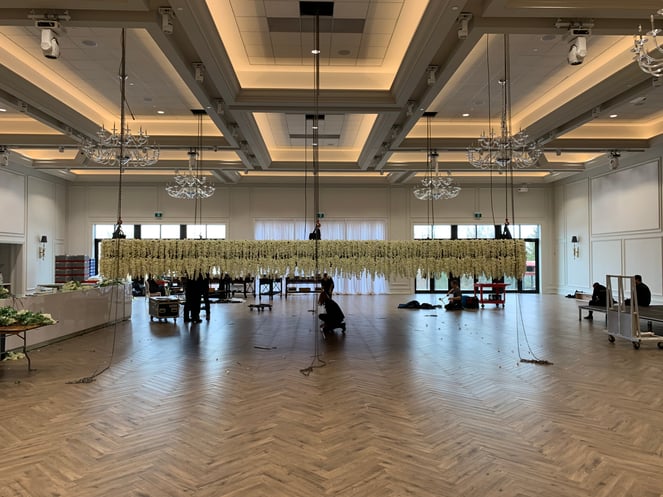 Truss systems are key when it comes to enhancing audio, video, lighting, motion capturing, staging, as well as other creative components, like floral décor and scenic pieces.
Rigging comes with many moving parts. Keep this in mind when it comes to the size and shape of florals as well as the specialized labour that is required to install the piece(s).
Remember to verify with your venue and on-site team to ensure you understand any restrictions when it comes to weight, size, and placement of rigging points long before your event date. Ultimately, these factors will determine what is possible in your venue and how much the installation will cost.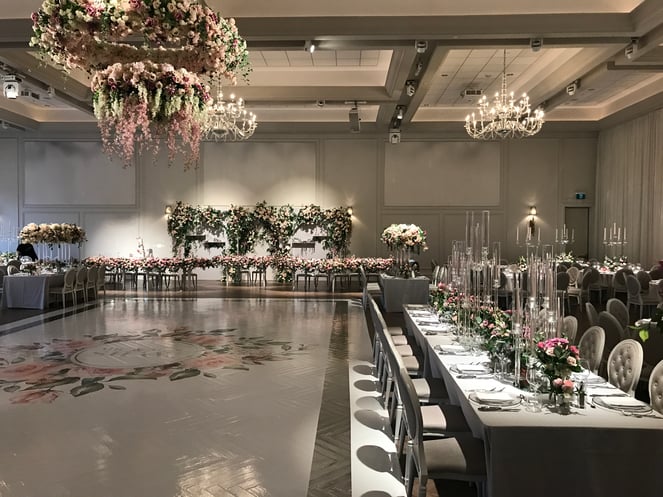 When it comes to cost, keep in mind that any labour and equipment needed to rig your pieces will be separate from the actual floral design/ item being installed.
The end result is always worth the investment.
Creating Event Magic and a beautiful atmosphere that is (literally) head and shoulders above the rest, will transform your venue and your day.
Planning a wedding can be stressful. We're here to take a bit of that stress away by providing an engaging, simple planning experience.

"Creating Event Magic" is our guiding philosophy. Founded in 2008, bb Blanc is a Canadian-owned and operated live event company supplying award-winning audiovisual/staging production and entertainment to both corporate and social event markets.
Our team is here to support your unique event needs with a personal touch.