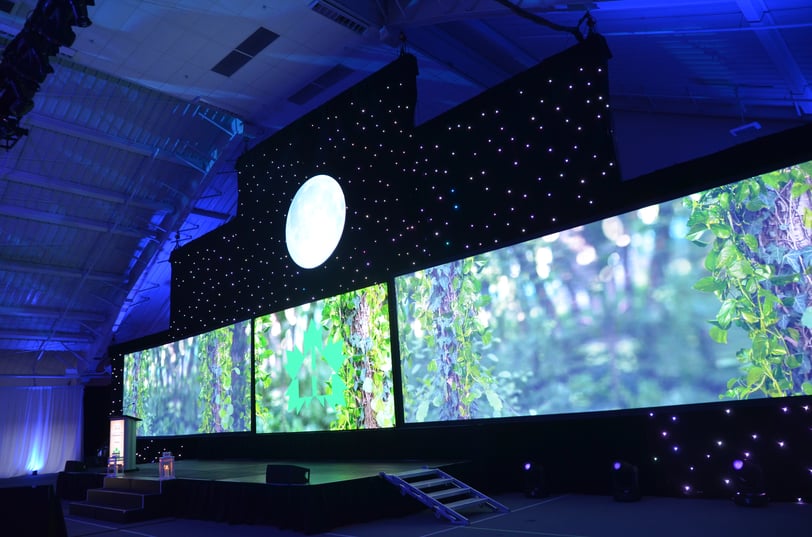 Event Producer: KSA Toronto
The Ontario Home Builder's Association Annual Conference brought industry professionals together at Blue Mountain for two days of celebration, education, and networking.
The conference kicked off with a Gala introducing the association's new President. The theme? A night at the President's (Muskoka) cottage. Over the two days, break out rooms covered sessions and the education component of the event. To conclude the conference, the creative stage design transformed into a tropical beach themed awards evening.
The Goal
To add wow factor. This seems to be a vague goal but still a measurable one. The client wanted to elevate the look and atmosphere from years past and was looking for a creative element to bring their vision life.


The Challenge
The main room was the Quartz room at Blue Mountain Village. The room is very large and open, which can be great as a blank slate, but can also easily look empty if the space isn't used effectively.
The Solution
Creative stage design with a versatile edge. The main stage was the focal point of the room. Versatility was important for this design. With two full scale events back to back, the stage design needed to be versatile to represent the two themes.
The evening events started in a draped-off cocktail area where themed content was projected onto the drape. Just a taste of what would be on the other side. Then, the big reveal...
The President's Gala had a Muskoka Cottage theme, reminiscent of the presidents own cottage. A projection mapped moon over twinkling star drape gave us the summer night sky vibe. A 10' X 18' LED wall, flanked by two 10' X 30' widescreen projection screens showcased the woodsy content perfectly.
To combat the large open space, the strategic lighting design cascaded across the ceiling and walls to fill the room and add to the cottage atmosphere.
To transition to the next night's Awards of Distinction, a change in content and lighting brought out a tropical beach them. The moon transformed into a warm sun and tropical themed content fill the screens with lighting to match.
The Outcome
"Blown away from start to finish with your team and the magic they made happen bringing my vision to life. Talk about #damngoodav"
-Emma