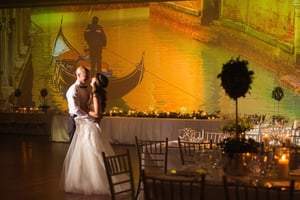 You are a wedding planner tasked with putting together your clients' ideal wedding reception. You have catering, decorations, music, and more all lined up and ready to go; however, you might wonder what else you can add to the reception in order to create a truly magical, memorable evening. For wedding receptions held in Toronto, the answer might be an LED video wall rental.
What Is an LED Video Wall?
An LED wall is when a series of LED tiles with zero bezel are linked together to create a larger-than-life display screen that enhances the accompanying image quality. LED wall rentals come in a number of different sizes, from the humble widescreen arrangement to set-ups that make the "wall" part more literal than figurative. LED video wall and screen rentals in Toronto are just another way that bb Blanc can start "Creating Event Magic" for your reception.
What Can an LED Video Wall Bring to a Wedding Reception?
Versatility
An LED wall has a number of different uses during a wedding reception. They are commonly employed to display dynamic images, like custom wedding videos, retrospectives of the couple's relationship, well-wishes from friends and family who couldn't attend, and even to give a large platform through which guests can be kept apprised of the evening's events. Other options include custom animations and montages, or even creating fantastical or exotic backdrops to support a themed reception. With an LED video wall, if you can imagine it, you can display it.
Quality Colour and Image
The LED video wall rentals offered by bb Blanc feature advanced colour processors to consistently produce crisp, clear, and high-quality images at all times. Additionally, a large range of contrast and brightness is available, which allows you to match the screen to the exact needs of the venue. This range means that you can ensure guests will receive top-quality picture performance even if the video wall is outdoors and in direct sunlight.
Why Choose bb Blanc for Your LED Video Wall Rental in Toronto?
bb Blanc is dedicated to "Creating Event Magic," and this shows in every service offered. By allowing us to help out at your wedding reception, you, the guests, and the happy couple can enjoy such features as:
A selection of LED walls in different configurations and sizes so that you can find the perfect match for your reception
Easy installation and talented ground support to make sure the screens are compatible with the venue and any media devices that will be used
Skilled staff to offer speedy service and talented technical help to manage and troubleshoot the display
Affordable LED video wall rentals that can be customized to fit within your budget
For more information on the unique additions we can bring to your weddings, receptions, or other occasions, feel free to contact us by phone at 416-360-0440 or by e-mail at info@bbblanc.com.