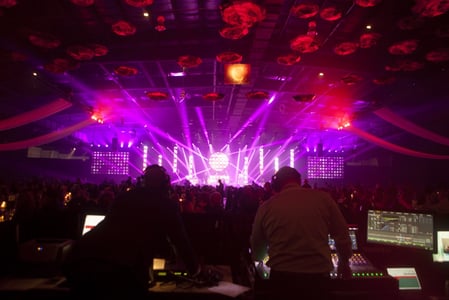 Toronto, Canada, April 11, 2017 – bb Blanc (www.bbblanc.com), a premier provider of audiovisual and entertainment experiences, is thrilled to have received the honour of Best Technical Support for an Event at the 20th Anniversary of the Canadian Event Industry Awards ceremony on Thursday March 30, 2017. The audiovisual service provider submitted its third-time production of the Honda of Canada Manufacturing Holiday Party, which was held on November 26, 2016 at the International Centre. The function, which hosted 2,600 attendees, showcased multiple entertainment acts, including performances by So You Think You Can Dance Canada contestants and April Wine. bb Blanc were the masterminds behind the entertainment, design and technical production, amazing audiovisual and lighting elements, and stagehands.



"bb Blanc was overjoyed to celebrate the success of the business and the team at Honda of Canada Manufacturing plants in Alliston, Ontario, for the third time in a row," says Michael Agard, Account Manager for bb Blanc. "We put our hearts and souls into giving these hard-working Canadians one amazing holiday party once again, and we are so honoured to have received this award. Our team worked very hard to bring together all the right visual and audio elements to make this event spectacular."



The stage set for the event included amazing visuals and substantial lighting that gave the room a look and feel "similar to a Super Bowl half-time show." The team of audio, lighting, and video technicians, stagehands, and the technical director all made sure cues were met and the entertainment was supported without flaws. bb Blanc started planning the design for this event months in advance, and the team at Honda of Canada Manufacturing annually looks to them to develop the design and technical production from start to finish.



"All of our team members strive to give a high standard of service to guests at every event we manage, and we enjoyed meeting our client's objectives and exceeding their expectations once more," Agard concludes.



bb Blanc is a full-service live event company that prides itself on "Creating Event Magic" by crafting specialty programming for a wide variety of public and private events, celebrations, wedding receptions, corporate meetings or conferences, product launches, awards and gala events, charity events and fundraisers, and more.