A corporate event is, unsurprisingly, any event sponsored by a business for its employees, clients, or potential clients. Corporate events in Toronto can range from sprawling industry conventions to small office holiday parties. Regardless of the type of event in question, corporate event planners can be a huge asset for planning entertainment. In addition to helping bring your vision to life with the right lighting, decorations and ambiance, planning companies can provide numerous options for corporate entertainment from comedians to musicians to magicians.
7 Types of Corporate Events
Here are some examples/list of the different types of corporate/business events that planning companies and corporate entertainment providers can help turn into memorable successes.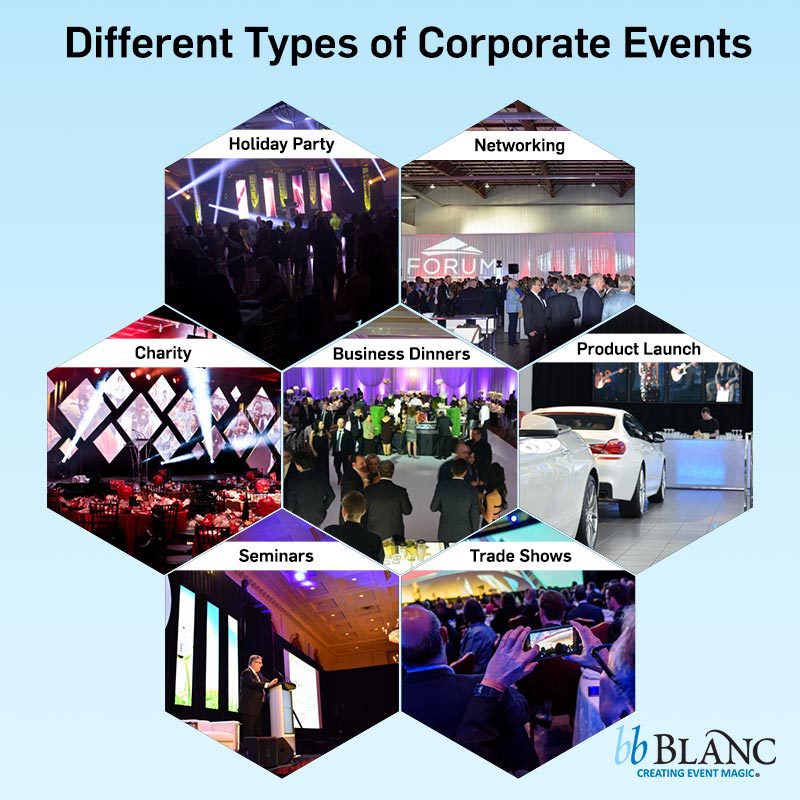 Business Dinners
A business dinner is a way to let everyone meet a new hire, celebrate milestones, or simply let workers take a break and mingle. Event planning can turn these events into strong builders of social ties and relationships that contribute to a better work team.
Networking Events
These are large mixers that feature the gathering of various parties within a specific industry including employees, clients, possible clients, and more. The idea is for people to relax and talk business or whatever else comes to mind. As with any form of networking, starting the relationship is the main goal at these types of events and the right corporate entertainment can get folks laughing, chatting, and maybe dancing.
Product Launches
Few things are more exciting to a business than the big debut of their latest product. A launch party is a great way to generate media buzz and help forward your brand. Corporate event planners in Toronto can work with you to craft engaging, energetic, and truly magical launch parties that capture the imagination and spark anticipation.
Holiday Parties
Your employees put in a lot of effort year-round to help grow and better your business and the staff holiday party is a great way to show appreciation. Event planning can create memorable, festive holiday parties with top-notch entertainment that will be the stuff of water cooler talk for months or years to come.
Seminars
Audiovisual technology is a huge part of event planning and seminars are a type of corporate gathering that shows off the full flexibility available. The same technology that creates stunning visual displays, like the atmosphere screen system, can be used to enhance and deliver training presentations, general meetings, and employee education events.
Charity Events
Charity events, whether concerts, golf tournaments, or anything else, play an important role in how businesses interact with the community. Making sure everyone has a good time requires managing music, lighting, decoration, stage design, and entertainment. Fortunately, corporate event planners are more than able to rise to the challenge.
Trade Shows
Setting up a booth at a trade show brings with it the challenge of making your company stand out from the dozens or hundreds of others in attendance. Corporate event planners can help by providing key audiovisual technology to draw the eye and capture attention. Multiscreen displays, strategic lighting, and interactive elements are just some of the tools that can be placed at your disposal.
3 Tips for Planning a Corporate Event
Although hiring a corporate event production company can make much of the planning process easier, it doesn't mean you can rest on your laurels. Event entertainment is just one aspect of the evening, and you will need to be able to engage other matters in order to ensure successful results. Here are some ideas on what you can do as part of the planning process.
Keep the Purpose of the Event in Mind
When deciding on various elements for your event, always keep in mind how it can support the underlying intent of the gathering. For instance, networking events are likely to be semi-formal or business-casual style affairs, so your planning choices should reflect this tone in order to make it easier for attendees to communicate and get to know one another. A product launch would have a more celebratory atmosphere, but it's also an environment in which the employees need to be able to be the best face of the company, and so on. If you are working in tandem with a live event company for your corporate event, make sure that they understand the intended tone and purpose of the evening and can reflect it in their plans.
Mind the Date and Time
Generally speaking, the date and time for your event will have been already set, and the timing will play a role in how the rest of the occasion is planned out. This is reflected in things like the presence of alcohol or what food is served as well as in your choice of entertainment for the corporate event. Much like with meals, lighter or less in-depth performances are better earlier in the day. You wouldn't have a three-course meal for lunch, nor would you put on a pounding dance scene at 1:00 p.m. The earlier an event is set, the more likely someone is to need to leave early for other engagements as well, so keeping things shorter in these instances can also be advantageous.
Plans Should Align with the Venue
It's important to make sure that your intended venue is actually capable of supporting the event plan you have envisioned. This includes obvious elements like seating capacity but also less obvious ones such as if there are enough electrical sockets around the stage. Depending on what needs to happen, a resolution could involve an adjustment on the venue's part or an edit within your own plans. When working with a corporate event production company, make sure to do a walk-through of the venue with your representative. They will be able to get a feel for the space and suss out how it can fit with your event entertainment ideas.
bb Blanc is a full-service, live event company based in Toronto. We pride ourselves on "creating event magic" through the use of the latest technology, top-quality entertainment, and talented lighting and audiovisual professionals. For more information on bb Blanc and the unique additions we can bring to your corporate gatherings and events, feel free to contact us at 416-360-0440 or at info@bbblanc.com.