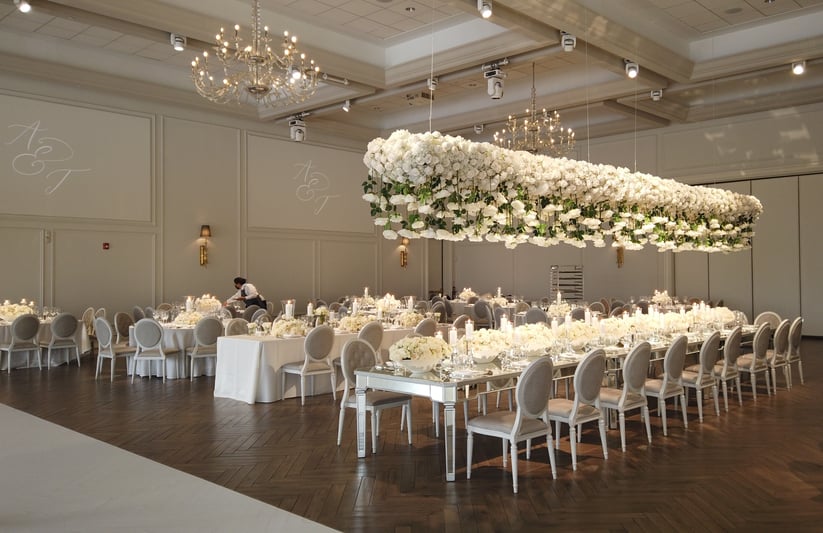 One of the biggest wedding trends we have seen on the rise since 2019 is ceiling decor a.k.a Rigging. Combining your florals and lighting, elevating your centerpieces, and creating a lighter than air atmosphere. But, what you might not know is what really goes into this type of decor and how it can affect your budget. As you've been flipping through your favourite bridal magazines, you've noticed how ceiling decor transforms a venue and the visual impact it has. There are many things to consider when deciding "to rig or not to rig". Award-winning florist Lemis Hassani (Royal Orchid Florist) and our resident rigging expert, Adam Palleschi (bb Blanc) share their tips and what you really need to know.
First off, WTH is Rigging?

Here are a few key terms to be familiar with:
Rigging: When equipment/material is temporarily or permanently suspended or attached to the ceiling of a venue. The equipment could be suspended using chains, steel cables, or hoisting equipment.
Rigging Point: Designated places in the ceiling where equipment can be hung. These areas are regulated and maintained to ensure the weight limits are appropriate.
Rigger: A specialized technician that hangs equipment and other truss supported items from the ceiling.
Rigging plot: This is a diagram that shows where the rigging points are and where equipment can be hung from the trusses throughout the room.
Truss: The metal framing attached to the ceiling by the motors and the rigging points. All equipment and materials including but not limited to: lighting, projectors, speakers, florals, and their associated cabling are attached to this frame.
Cabling: These cables provide power, signal, and networking for all the equipment. They are carefully run along the truss for overhead equipment and on the floor for the rest.
Motors: Attached to the rigging point and the truss, these small machines allow technicians to lower the truss to connect the equipment, then raise it back to the ceiling.
Consider this.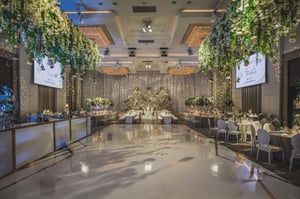 Ceiling decor makes a statement. Whether is motorized lanterns that move with the music or a large floral arrangement over the dance floor (to name a couple), rigging makes an impact on your overall wedding decor. "It's important to be realistic with your budget," says Lemis "and how much this piece might cost from design point and the rigging point". With rigging comes many moving parts (pun intended). Clients should keep in mind the size of their arrangement as well as the specialty technical labour that goes into installing the piece they are looking for.

"It's also important to check in with the venue and their in-house audiovisual team to see about any rigging restrictions for weight, size, and placement of rigging points", says Adam. These factors can determine what is possible in your venue and how much the installation will cost.
A misconception people often have when it comes to budgeting, is the labour and safety requirements that go into installing a rigged piece. The cost of the installation will almost always be separate from the floral design/item being rigged.
Bring the WOW!
Ultimately, When it comes to ceiling decor, your end result is a beautiful atmosphere that creates that WOW factor and a piece that completely transforms and accents your venue. Your first dance will look as magical as it feels.