When handled correctly, corporate holiday parties are a great way for employees to engage and socialize. There are many benefits to workplace holiday parties, especially during times of the year like Christmas. It provides a fun and pleasant environment where employees feel appreciated for their work throughout the year and encourages team members to get to know the company and each other better.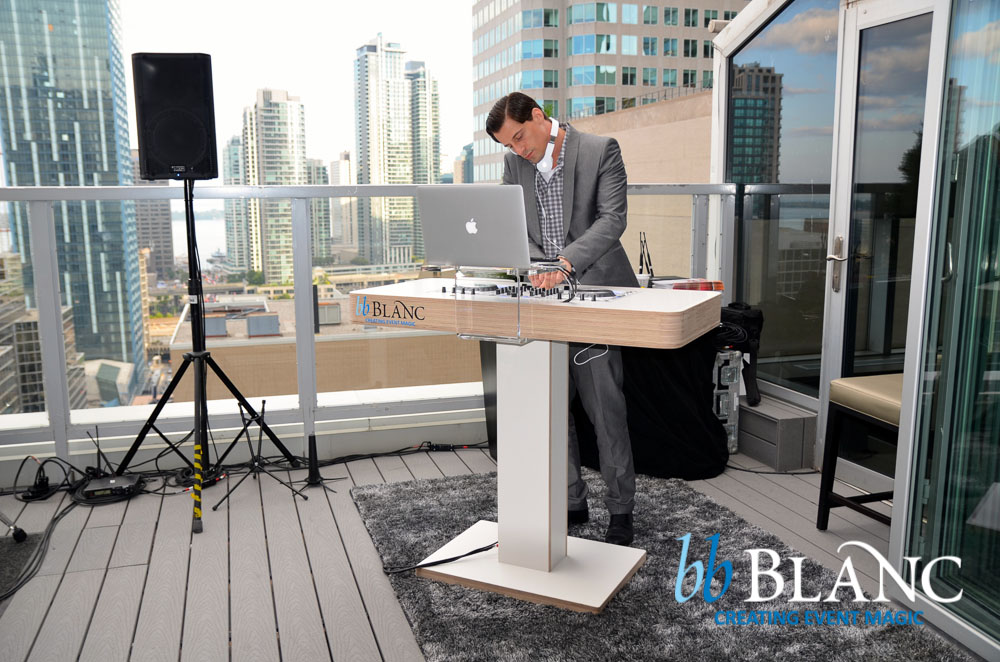 Locations for Corporate Holiday Parties
There are many beautiful and luxurious venues to host a corporate holiday party in the Greater Toronto Area. Whether you are looking to rent space at a hotel, convention centre, banquet hall, or even an upscale restaurant, each venue can be tailored to suit your specific needs. Ascott Parc, Embassy Grand Convention Center, Hockley Valley Resort, Mississauga Convention Centre, and more are just some great options to host your corporate holiday event in the GTA.



DJs for Corporate Holiday Parties
Hiring DJ services in Toronto for your holiday party is a great way to set the mood to break the ice. Not only will you get a huge part of the planning out of the way, DJ services provide many more benefits for employees. It gives them something to look forward to, improves company morale, makes the event fun for everyone, and provides a team-building experience through activities like karaoke and dancing. Our DJ's are accompanied with a stylish booth, professional sound system and a wireless microphone for speeches and announcements. Of course, we can also build a custom backdrop with LED video wall technology and add some energetic lighting and other effects. It all depends on how much of a splash you're looking to make!



Reasons to Invest in DJ Services for a Corporate Holiday Party
There are tons of benefits to hiring DJ services for your corporate holiday party. Choosing a great DJ means your guests will be entertained, you will get the desired atmosphere you want for your event, and you can trust that the entertainment responsibilities are in good hands. Here are some more ways that DJ services can make your event the best one of the year.
Easy Planning
It is a huge task to organize entertainment for a corporate holiday party, especially if you work for a big company. That's why DJ services are so handy—they already come with a specific set of skills and equipment and know how to put on a good show. Experienced DJs can completely transform the atmosphere of an event by their song selection and personality.
Boost Employee Morale
A holiday party with some fun and festivity in December can end the year on a high note for employees. Ending the year this way leaves employees with a high opinion of the company and their work right before the holidays. It is also a way to kick off the new year with a positive and optimistic approach, which empowers the team to do their best work.
Shows Gratitude to Employees
Employees work hard throughout the year, and giving them a special event like a holiday party can repay their efforts. Something as simple as a memorable and enjoyable Christmas party once a year can go a long way to make team members feel rewarded. This personal gesture of gratitude shows that they are not just a faceless entity on you payroll. Managers can interact with team members and build a more personal connection, making employees feel recognized and appreciated.
Helps in Team-Building
Dancing, karaoke, enjoying a meal, and getting social time with fellow employees can help develop teamwork skills further. The environment encourages bonding and builds connections with employees who may not get to interact on a daily basis.
Create an Atmosphere for Success
In addition to setting a relaxed and fun atmosphere, DJs motivate the whole company moving forward. Scheduling a party at the middle or the end of the year can give employees the extra motivation they need to carry on for the next few months. It breaks up the routine and the stress in a very effective and entertaining way!



Why Choose bb Blanc for DJ Services in Toronto?
bb Blanc's DJs can play whatever music you want for your corporate holiday party including classical, rock, top 40, dance, house, R&B, traditional, and more. Our music stylists can customize their playlists to suit the desired atmosphere you want—they can even accommodate ethnic and multinational requirements.
bb Blanc is a full-service, live event company based in Toronto. We pride ourselves on "Creating Event Magic" through the use of the latest technology for audiovisual display and support. We offer an amazing multitude of features that can be incorporated into any event so that guests will be engaged, amazed, and leave with lasting memories. Unsure on what you want? Tap into our brains for advice and our consultants will bring their expertise as they work with you to devise and orchestrate your event. For more information on bb Blanc and the unique additions we can bring to your award ceremonies, corporate parties, or live events, feel free to contact us by phone at (416) 360-0440 or by e-mail at info@bbblanc.com.