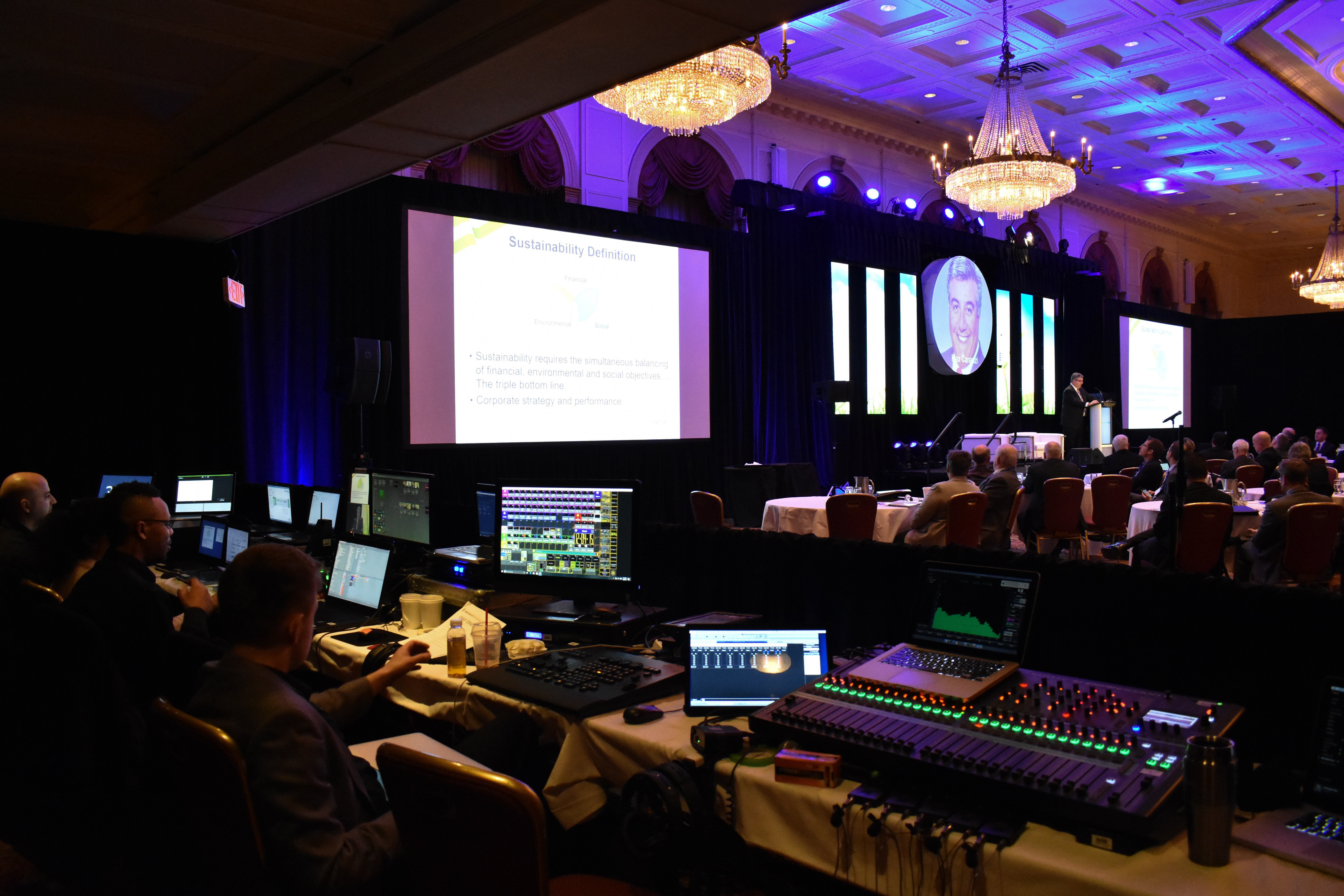 It's more than a buzzword. It's more than a fad. Technology is more and more prevalent in our lives, and the event industry is no different when it comes to event technology. As the industry evolves and innovation is embraced (and these days, revered), event tech plays a very important role. That said, technology for the sake of technology is pointless. Innovate with purpose. Those VR goggles probably aren't going to help you reach the goals of your financial AGM. It's all about Choosing the right technology, for the right event, for the right purpose.
Projection mapping
What is it?
Projection mapping is the technology used to transform objects or spaces into a display surface for projection. This physical space or object can be anything from complex industrial landscapes to smaller indoor objects or stages.
The core technology at the centre of this is known as "edge-blending" or "edge-butting." Edge-blended projections can transform four walls into one continuous image.
The two types of projection mapping are two-dimensional (2D) and three-dimensional (3D). They differ based on the type of surface the projection is displayed upon.
How can you use it?
For projection mapping to work there must be surface that is projected onto. This surface is what is being "mapped". This can be any object but most notably; buildings and cars. However any 2D or 3D object can work.
There are many uses for projection mapping.
Advertisement – Advertisers can map onto their products to create a unique digital display. The object that is being mapped can be the actual product, a larger scale model, or smaller scale model for the product. For example, if you want to projection map a car on display perhaps a smaller size scale model of the vehicle is preferred. Or if you wanted to map onto a product bottle you may want to make a larger scale model of that bottle so the mapped object can appear larger and have a greater visible presence.
Audio Visual Production – For this use objects are mapped for dynamic stage presence. Whether for main room plenary sessions or concert stage the wow factor is undeniable. It allows for another layer of creativity and depth in design and immersion, ultimately captivating the audience's attention.
Interactive Displays – This is a fun way to use projection mapping that includes participant engagement. Often, this type of mapping uses some form of sensors to track the participant(s) and include them into the mapping content. Either their physical appearance (face or body) or the gestures and movements can interact with the content that is being displayed.
Art – Projection mapping can be a kind of creative expression as well as art installations. Generally, both the mapped object and mapping content contribute to the art installation. This unique form of expression takes place in both physical and digital media.
Holograms

What is it?
A hologram is a 3D or seemingly 3D virtual image. It can be of anything, but the main uses are of people. Holograms appear most realistic when a field of depth is created in the setup showing a background and foreground. This helps the audience perceive the hologram as real.
How can you use it?
Corporate AV – Holograms are fantastic tools to use on corporate AV sets. If a presenter cannot make it to an event or needs to be in multiple places at the same time a holographic solution is perfect. It allows the audience to view a real person doing a presentation in real time. The person actually appears like their real self, with a full-bodied presence! This dramatically improves audience engagement, especially compared to a conference call or pre recorded video.
Concerts – Holograms have been a hot topic on tour. They allow great flexibility for artists and an incredible show experience for fans. Holograms can be artists who want to make special appearances on another performers tour or artists who have passed. Concert goers can be amazed by the real appearance of another artist virtually, that they weren't expecting to see.
Digital Signage
What is it?
It's exactly what it sounds like, signage that is being displayed digitally through mediums such as LCD, LED, Plasma, or Projection display. Often in public spaces for advertising or informational purposes (like the digital map you see in the mall). There are several advantages to the use of digital signage versus printed signage like increased user interactivity, ease of content management, and it's a greener solution.
How can you use it?
Interactive Conference Programs - Many conferences are opting for greener solutions to reduce waste. With the rise of mobile event and conference apps, printed conference programs are becoming increasingly unnecessary (considering the ideals of your delegates, of course). With Interactive digital signage you can display daily schedules and updates, gamify an aspect of your event, or highlight your speaker sessions.
Event signage and Sponsorship - Digital signage is the perfect solution for a conference with ever-changing and sponsored sessions. Imagine having to print a new sign for every break out session when you could just update the digital signage with the press of a button. Sponsored session? Highlight your sponsors on beautiful digital screens and offer them more ROI to provide more creative content than just a logo.
Your Event Technology Partner
If you want premium event technology for your upcoming event or conference, bb Blanc has the solutions you need. We have worked with many companies and organizations in the Greater Toronto Area to help them set up the event of their dreams. Our full-service, live event company is based in Toronto, and we pride ourselves on "Creating Event Magic" through the use of the latest technology for audiovisual display and support. We offer an amazing multitude of services and features that can be incorporated into any event so guests walk away with lasting memories. Unsure on what technologies will help you reach your event goals?