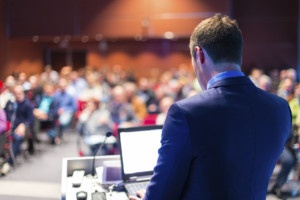 It is very easy to talk about event management in general, whether you are discussing hiring entertainment, arranging lighting, operating AV equipment, or even just making sure the MC gets to the location on time. What can sometimes get lost is the role that an event management company plays in a city like Toronto or how Toronto's event planning companies can be extraordinarily helpful—sometimes necessary—to making sure big events come together in the most spectacular way possible.
What We Mean By "Event Management"
Event management is the coordinated effort behind planning, organizing, and executing various events or features. This includes weddings, corporate meetings, fundraisers, sporting events, fashion shows, and much more. Event management is a team effort and is not tied to any one individual. Although event planning companies always have someone in charge, there is an understanding that true magic can't be created without everyone working at a high standard. There is also a large creative element since event management thrives on creating innovative and memorable audiovisual displays and entertainment options.
The Benefits of Using an Event Management Company
When planning an event in Toronto, or anywhere else really, there are several specific advantages to be found in using an event management company. Although not all of these are exclusive to using a management company, there are few singular options that can combine all of these benefits in a single source.
Smooth Execution
Few things can make Murphy's Law seem more absolute than trying to execute the perfect event. Fortunately, planning companies are very familiar with the ins, outs, ups, and downs that come with trying to put big moments together. Any quality event management company is going to come armed with contingency plans in the event plans A, B and C don't work. Just because something can go wrong doesn't mean it has to diminish the evening.
Saving Time and Money
It can seem odd to recommend paying money to outsource your event planning on top of every other expense an event incurs, but doing so can be quite valuable. Event companies have numerous contacts and direct links with suppliers, performers, technicians, and more. This allows them to get better deals on what you need and to do so in less time.
Creative Ideas
Event management companies thrive on creativity. Engaging one allows you to brainstorm more freely, think more broadly, and learn not only what can be possible but the precise way it can be carried out. Being able to take energetic concepts and turn them into real, magical moments is a huge part of making memorable events.
The Best Technology
Event management companies love their toys, whether it's the highest quality sound systems, integrated and coloured lighting options, spectacular panoramas from wide screen displays, or innovative set and stage design. Working with a planning company gets you access to their full arsenal of technology so any vision can be brought to life.
Responsibilities and Duties of an Event Management Company
Listen closely to the client's expectations including timeframe, budget, and event needs.
Brainstorm options with the client and be able to incorporate their ideas and wishes. If something is genuinely not feasible, explain why and propose alternatives.
Be open with the client and inform them of the status of preparations and the final plan for the event.
Secure any necessary permits or licensing an event may call for.
Provide high quality entertainment, experienced and skilled technical staff, and be flexible and ready to make adjustments as situations or circumstances dictate.
bb Blanc is an award winning, Canadian-owned and -operated company specializing in staging and audiovisual services as well as live entertainment for the corporate and social event markets. We pride ourselves on "creating event magic" by crafting specialty programming for a wide variety of events, such as meetings, conferences, trade shows, product launches, awards galas, fundraiser galas, fashion shows and more. By using the best audiovisual technology and people in the industry, our goal is to create events that will leave your guests with a lasting impression. For more information on bb Blanc and the unique additions we can bring to your gatherings and special events, feel free to contact us at 416-360-0440 or at info@bbblanc.com.