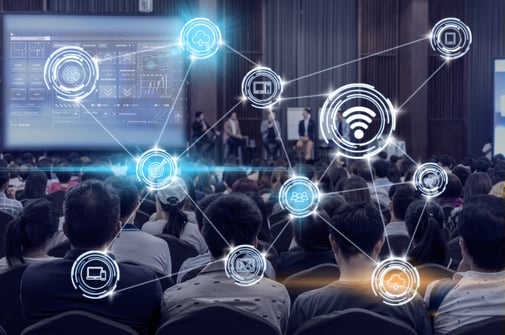 A standout benefit of events throughout the past two years has been the focus on a Digital-First world.
What is Digital-First? It's more of a mindset than a format. It means, when it comes to events, even when in-person, the digital experience isn't an afterthought, it is one of the first things to consider.
Why should you embrace the Digital-First approach?
As we return to live events, we need to incorporate an organizations' overall strategy, keeping in mind objectives for marketing, communications, and business development, not just events.
This will allow more time to plan a viable program that will broaden the reach of your message.
How do you ensure events are digital-first?
Be strategic
Shifting your events and strategy toward digital doesn't mean losing all your in-person meetings or print publications. It means better equipping your organization to:
Capitalize on event technology and match the technology with the organizational goals and objectives of your event(s)

Communicate well, and often, with your various audiences (speakers, attendees, press, etc.)

Invest in quality content (both pre-recorded and live)

Build in an audience engagement element into the event

Invest in a solid technology partner



Virtual events are here to stay, and they continue to evolve rapidly.
Virtual events aren't new. However, they have evolved, and during the pandemic these updates and changes have happened faster than ever before.
Creative, compelling, and engaging content remain the foundation of all successful events, whether in-person or virtual.
Moving events to an online forum resulted in being more creative, more innovative, and more collaborative with all event partners. Let's keep this creative flow going.
Digital extends the life of events
Virtual and hybrid events allow event organizers to expand their audience beyond those who can attend in person, measure every touch-point of the experience, and create a portal of content that lives beyond the live event dates.
They can also extend the length of time you can engage with your audience, meaning the footprint and reach of your event, can be achieved more easily.
When a virtual event platform becomes a venue that attendees can revisit, consume content and network with others that results in infinite value. These digital venues, unlike their physical counterparts are data rich.
They can track where attendees spend their time, who they visit, what they learn and how they want to interact with your brand. This data allows planners and marketers to work together, and the result is more meaningful events with a greater return on investment.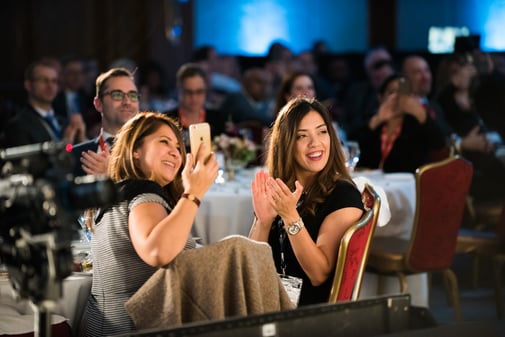 Digital First events are data rich
Results can be measured.
For years planners have relied on post-event surveys to gauge the overall effectiveness of their events. At the most basic level these surveys captured satisfaction with the destination, quality of food and beverage and the relevance of the entertainment or presenters.
Today's digital-first event experience allows for the largest set of data we could ask for.
We can evaluate website clicks, visits, viewership, and interactions to determine the effectiveness of the social media and web-based event campaigns.
We can market to attendees before, during and after the event. With an understanding of both the costs of the event and the value of attendance, planners can deliver a more robust ROI and enhance their future event strategy using this knowledge.
Production Matters
Solid Event Production will compliment a digital-first event program.
Event production is essentially the careful planning, coordination, and execution of every element, no matter how big or small, needed to provide clients and audiences with a unique, mesmerizing, and unforgettable event experience.
No matter what type of event you are supporting, production plays a key role in how your attendees will perceive the quality of your event. High-quality audio, dynamic lighting, LED video displays and unique set design are just a few ways to make sure your event stands out.
In a digital-first approach Event Production will allow you to design, implement and control the atmosphere, mood, and emotion of attendees.
All of this is possible if you invest in good event partners.
Tech is crucial, so having the right partner to design, plan, test, troubleshoot, and produce your event flawlessly makes all the difference.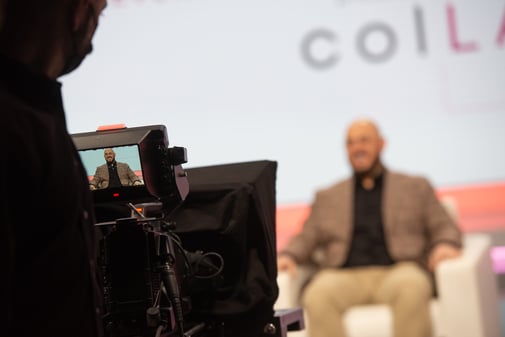 When it comes right down to it, digital-first events give you an opportunity to:
Increase and diversify the amount of people you can engage with and reach globally.
Invest in production that compliments your true event needs
Extend the life of your events
Make digital first a priority, not an afterthought.
Digital first events take time to prepare and plan for, just as in-person ones do.
Collaborate with like-minded partners, then commit and dedicate the appropriate amount of effort and attention to your digital events.
The result will be successful event(s) that are of interest and benefit to your attendees.
I recently had the opportunity to discuss this topic first-hand with Mahoganey Jones on the inaugural broadcast of her new webinar series called ColLABorate".
If you are interested in finding out more check out "When it comes to Hybrid Event Production Beyond 2020 –Post Covid" from Events Specialists Inc.
About the Author: Mark Awad is Senior Business Development Manager at bb Blanc. With more than 14 years in the event industry, Mark can assist you in creating event magic. Connect with Mark to unpack all of your strategic event needs, including digital-first.
bb Blanc is committed to showcasing a clients' vision with a personal touch, "Creating Event Magic".

Canadian-owned and operated, bb Blanc is a live event company that continues to supply award-winning audiovisual/staging production and entertainment to both corporate and social event markets.
Whether it is virtual, in-person, or hybrid, bb Blanc is here to support your unique event needs.

Connect with us today.