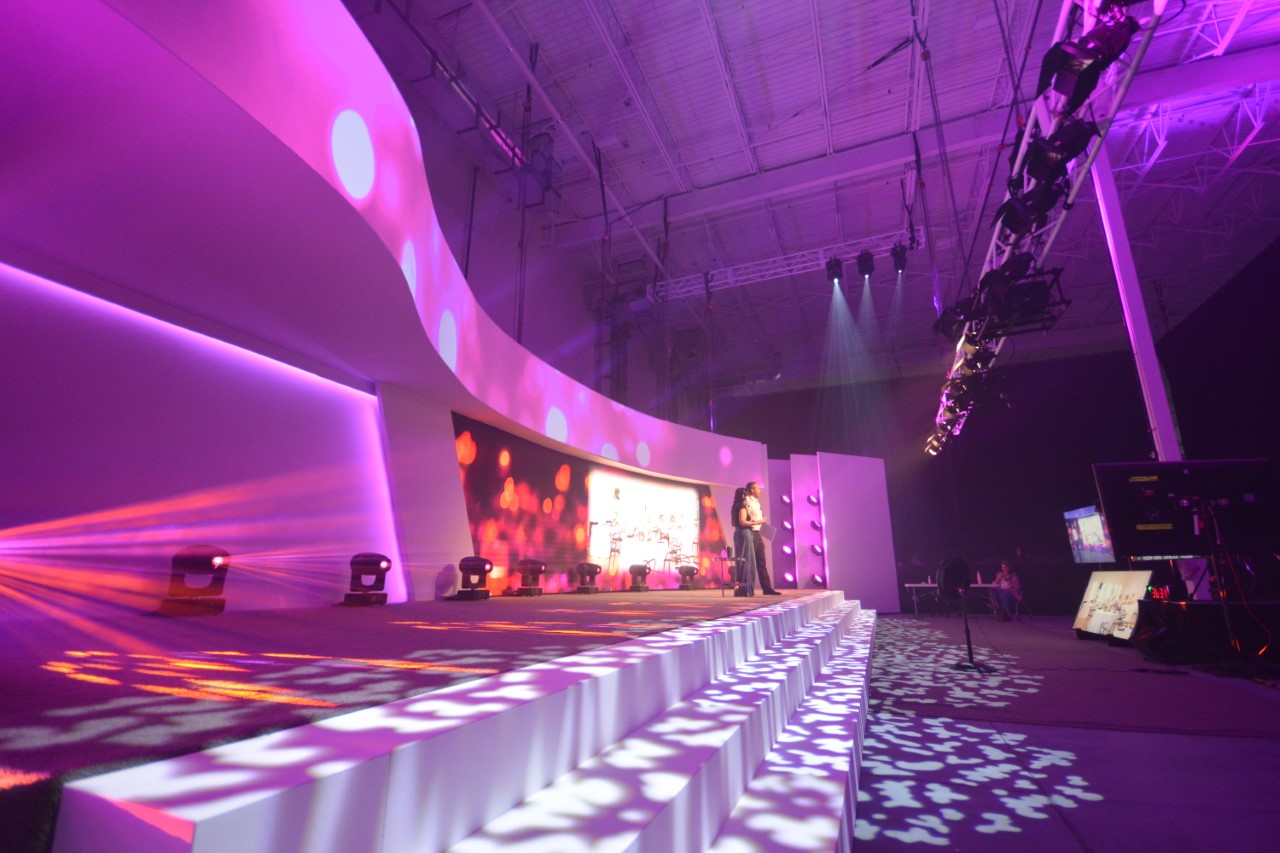 With Virtual and Hybrid events in high demand, we have responded to our clients' needs with lively, engaging, and highly dynamic event solutions. Ultimately, we are bringing the feel of a live event to your audience which will increase engagement.
Using clean aesthetics, fusing innovative AV technologies, and never sacrificing functionality, we have embodied our company niche of creative design.
Here are the three reasons why you should consider the bb Blanc Event Stage for your next event.
Designed with your events in mind
At approximately 50' wide and 16' deep and 14' high the Event Stage comprises a modern look featuring curved and angled features.
The angled set pieces include LED backlighting that can be coordinated to match content or company colours. We know branding is important.
Along the top of the Stage, we have incorporated a curved ticker (banner) that is 52' wide and 4' high – Ideal for unique content, point emphasis, or presenter names and titles.
The central feature is a Curved LED wall that is 30' wide x 8' high. This is used for almost anything from custom backgrounds, presentation content, and videos.
The remainder of the set features clean hard walls that can be utilized to broadcast simple and professional pre-recorded or live messages.
Functionality is key
The stage is large enough for two separate areas for two distinct looks or one single large one. Either option has ample space to physically distance presenters and panelists.
The set allows for a great mix of real stage elements and virtual content. This helps presenters feel comfortable while presenting on stage, ultimately helping you deliver your message in the most engaging way possible.
Depending on the application, a green screen can be used on the stage and we can place the presenter in a virtual environment.
Our goal was to create a set that has a lot of flexibility and solves our client's challenges.
Versatile and Customizable
With custom content, there are lots of places for creative visuals. With an in-house multimedia department, we can completely customize the Stage with your Brand in mind.
From a simple live stream to a complex and secure webcast we can adapt based on the requirements, adding in theatrical lighting or additional studio lighting to accommodate all broadcast requirements.
We know organizations thrive when you can communicate professionally and effectively. Whether it's a companywide Townhall, a product launch, education session, or corporate event, we can provide a professional and seamless experience for you and your audience.
Contact us at www.bbblanc.com to learn more about our Event Stage or to book your event.
About the Author: Ryan Smids is General Manager at bb Blanc. With over 20 years of experience, Ryan has worked his way up and is a dedicated, diligent, passionate member of the team. Ryan lives in Beeton, Ontario, where he spends his free enjoying the great outdoors (& treehouses) with his two sons and wife.