On April 28, 2022, I packed a small suitcase and headed to Toronto from my small town of Orangeville to attend THE EVENT – a three-day annual conference that amalgamates MPI's Toronto, Montreal, and Ottawa Chapters.
This was the first time since 2019 that we had the opportunity to attend this conference in person.
As a member of MPI since 2014, I have yet to miss the annual conference and this year was no different. I was excited to see the faces of friends and industry colleagues that I haven't seen in a while.
I was also looking forward to the education sessions THE EVENT is known for producing.
Here are my top three take-aways from this years' experience:
All things hybrid

Is virtual here to stay? How has it affected our businesses? Our clients? How much will it cost to produce an effective Hybrid event? What does Hybrid really mean? What is the best technology available to help run engaging virtual experiences?
These are some of the questions I've heard throughout the past six months and were certainly topics of discussion at the conference.
There isn't one simple answer, however after speaking with several event planners who represent corporations and associations, virtual has been proven to be effective for them. Many have even committed to continuing running their larger, flagship events as virtual experiences for the remainder of 2022.
Unfortunately, one area that hasn't worked as well in the virtual format is trade shows. As a virtual exhibitor throughout the past two years, I too can relate to this being a challenging endeavour for planners and exhibitors alike. There is no easy solution.
One of the highlights of this year's conference for me was the opportunity to take part as a panelist in "The Solution Room-How Technology will drive the Future of Meetings and Events".
Hybrid events were a hot topic here, including discussions around budget, engagement, and program design.
Key things to keep in mind with Hybrid; adding more components to an event will always mean more costs. The amount of cost incurred will always be dependent on the scope and scale of your needs. It also will mean you need more time to plan and prepare and it will require more staff, technology and ultimately a larger audience to tend to.
Bring your AV and technology partners into the discussion early. They can help you determine your needs vs. nice-to-haves, and they can provide insight on the technology and services to help you establish your budget and maximize your ROI.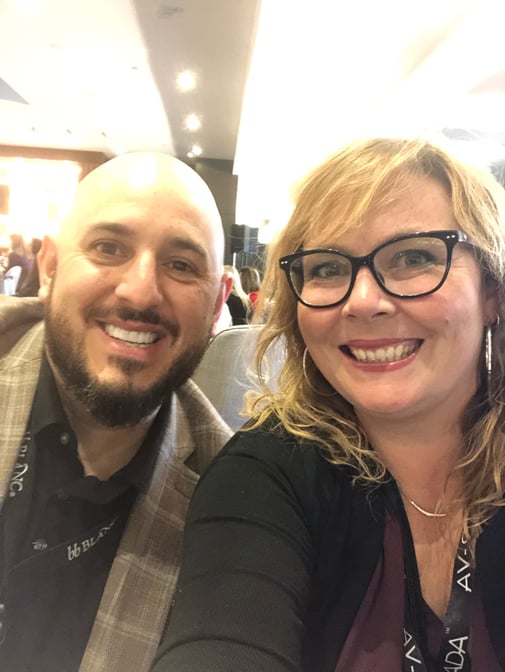 The importance of wellness & mental health

If there was a common silver lining throughout this global pandemic, I believe it's the appreciation of being able to spend more quality time with family.
Even for those who may live alone or had family in different cities or even countries – video group calls became the new norm and the importance of connecting more often with loved ones became paramount.
Organizations are not only acknowledging that the work-from-home model actual works, but embracing a more balanced workweek, giving their staff the option to work remotely and come into office at their own accord. Productivity has not dropped, as one may have assumed in previous years.
Sadly, a negative outcome of the pandemic is the decline of mental health.
A key ingredient to a person's well-being is a healthy mind, body and soul. While time away from morning traffic, the hustle and bustle of travel and long workdays helped people realize just how burnt out they may have been, working from home is not the complete answer.
Stress, isolation, uncertainty, and fear has taken a toll on many, and when a person isn't feeling well mentally, that can certainly affect productivity.
Many organizations of all sizes have recognized this and now offer access to programs and activities that will provide some support and education around mental health and well-being. Some companies even offer paid "mental health days", allowing their staff to take a day (or days) to rest, recoup or just relax.
State of the industry
Since members of MPI include hospitality, travel and tourism, meeting management and event suppliers alike, it was only fitting to examine the current state of our industry.
There is good and bad news. The good news is restrictions have lifted collectively across the country, with more people travelling and more meetings and events occurring in larger gatherings than we have seen since March of 2020.
The bad news? Labour shortages. Staffing is scarce across the board. Convention centres and hotels are struggling to not only find people to work on a full-time level internally, but banquet and other event production workers are hard to come by. Audiovisual companies are feeling the same pressure.
How can we combat this? One idea is to start at the high school level. Our industry associations need to create interest in high schools and generate more awareness of our industry as a fruitful and rewarding career.
This goes hand in hand with Colleges and Universities creating more relevant programs that cater to students interested in this as their chosen career path.
Associations, and companies need to present at schools and offer students internships (paid) and part-time positions within our organizations so that they can get hands-on experience.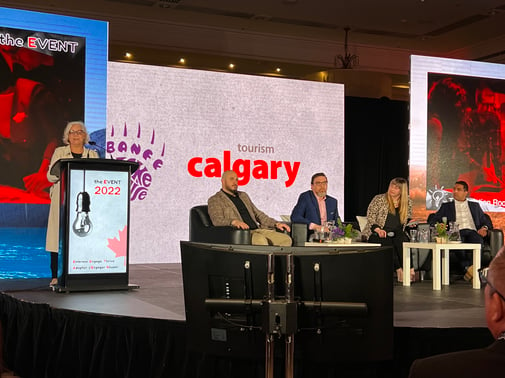 All in all, I found the three days to be jam packed with smiling faces, relevant education, and superb networking opportunities.
The onus is now on us to take these learnings and put them to use to help our industry continue to evolve and grow.
An industry that generates experiences that create memories for years to come.
To the team that made the EVENT happen, well done. See you in 2023!
About the Author: Mark Awad is Director of Business Development at bb Blanc. With more than 14 years in the event industry, Mark can assist you in creating event magic. Connect with Mark to unpack all of your strategic event needs, including digital-first.
"Creating Event Magic" is our guiding philosophy.
Founded in 2008, bb Blanc is a Canadian-owned and operated live event company supplying award-winning audiovisual/staging production, live entertainment, and technical support for memorable event experiences.
Whether in-person, virtual, online or hybrid, bb Blanc is committed to showcasing your vision with a personal touch.
Connect with us today.