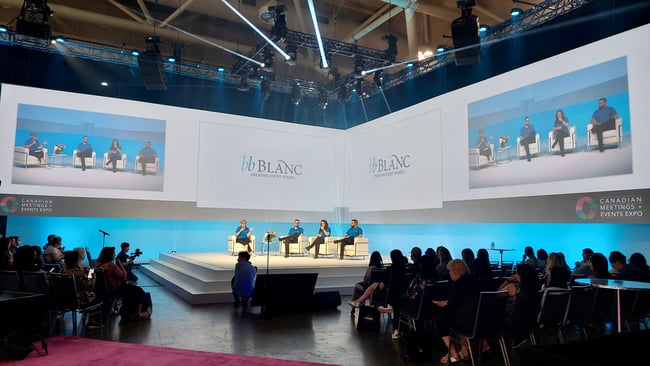 After a pandemic pause, the Canadian Meetings + Events Expo, #CMEExpo, was back in full swing on August 16 & 17 at the Metro Toronto Convention Centre.
Full of smiles, hugs, education, and high fives, for event professionals, it was the place to be.
CMEExpo is the largest and longest-running tradeshow and conference for meeting and event professionals. The event itself allows event professionals to network with suppliers from Canadian, US, and International destinations, venues, tech companies, décor, and more.
The education programming is designed to share key insights, and lessons learned and continues to assist event pros in building skills to help deliver better meetings and events. This year was no exception with standing room only for the Main Stage content.
As a member of the bb Blanc team who was there, in person for the full two days, here are my three key takeaways from the trade show floor.
We missed each other. A lot.
CMEExpo succeeded in allowing us to comfortably reconnect with familiar faces.
This was our chance to check in on one another on a more personal level, which allowed us to build even stronger relationships, that will no doubt serve us well in the years to come.
It also allowed for people to really connect on a deeper level. Many trade shows are considered transactional. At CMEExpo this was simply not the case. People wanted to stop, spend time, catch up and really dig into what's next.
Remember the days of waiting in line to connect with people in trade show booths? This was simply not the case. People could grab a seat, kick back, relax, take a selfie or two and really spend quality time with each other.

The Pandemic "time out" means people are ready to hit the ground running
Throughout the two days, the air was electric. There was a constant buzz, with everyone knowing something big was about to happen. That something is events and lots of them.
People are ready to get back to in-person. The momentum from 2020 has been brewing, and now we are all ready to get back to it. We are ready to take what we've learned during the re-set, build on it, and work towards better-designed event experiences.
Many are now comfortable referring to "pre-pandemic", or "the good 'ole days". (yippee!)
Most are ready to start bringing people together to 'create event magic', and lucky for them, we at bb Blanc, are more than ready to help them do just that.
And yes there were a lot of running shoes.
How resilient our industry truly is
Throughout the pandemic event professionals have had to find new ways, to collaborate, learn, build and stay strong.
CMEExpo allowed us to come together and show off exciting new products, connect with new faces & share a fresh outlook on things to come.
Branding stood out as being more important than ever as we reestablish ourselves. Who we are, what we can do, and how we can assist each other are paramount. Skip the sales pitch, let's get down to business.
It is an "all-hands-on-deck" mentality when it comes to servicing our customers and attendees. Together we really can achieve more.
By all accounts CMEExpo succeeded in allowing event professionals to feel comfortable reconnecting, sharing ideas, learning from each other, and building on relationships that will allow us all to succeed in the years ahead.
Now it's time to rest (briefly), recharge, and get ready for the next one.
See you in 2023!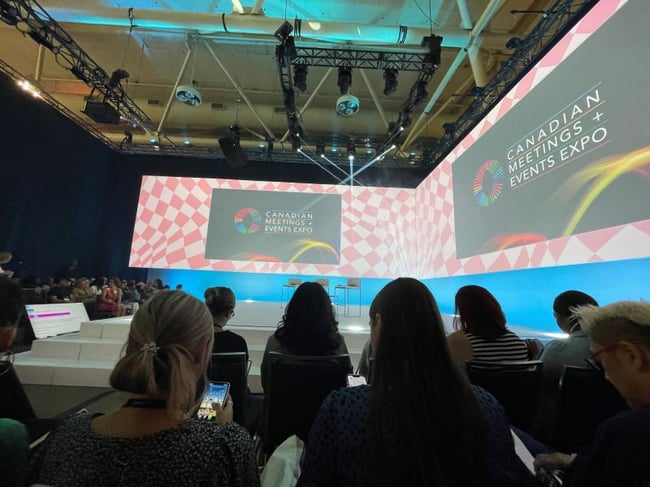 About the Author: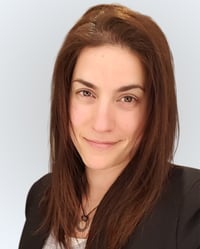 Sandra is collaborative, strategic, and innovative. With more than 18 years of experience in sales and events, Sandra's strength lies in understanding a client's (both internal and external) needs and providing creative solutions. From product launches, citywide conferences, galas, and everything in between, Sandra's positive attitude, attention to detail, and organizational skills have helped her clients succeed.
Connect with Sandra here 📧 slijoi@bbblanc.com
"Creating Event Magic" is our guiding philosophy.
Founded in 2008, bb Blanc is a Canadian-owned and operated live event company supplying award-winning audiovisual/staging production, live entertainment, and technical support for memorable event experiences.
Whether in-person, virtual, online, or hybrid, bb Blanc is committed to showcasing your vision with a personal touch.
Connect with us today.