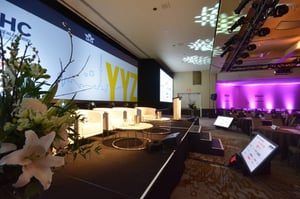 In business, success is often a matter of making sure you can deliver your message to an engaged audience. This is true regardless of whether you are trying to give a report over a conference call or are speaking to investors at shareholder meetings. Modern audiovisual technology offers amazing benefits in these efforts that can help enhance the clarity and reception, draw and hold audiences, connect people from around the world, and offer core branding opportunities to take advantage of. Whether you are putting together a boardroom meeting or a massive conference, here are just some of the top pieces of audiovisual equipment you can use.
Speakerphones
Most phones have the ability to place someone on speaker, but anyone who has tried can tell you that this is not an ideal arrangement. Anything from the angle of the phone to its shape to simply how the listener is positioned in the room can have a huge impact on how clearly a person can be heard. This is why professional speakerphone systems are an important asset for business meetings. These systems, which look kind of like a cross between a fan, a starfish, and a calculator, offer the ability to link up multiple lines, provide hands-free use, and have a clear 360-degree audio delivery so that it can seem like the speaker is right there in the room.
Microphones
Microphones are a stable of any large conference event for the simple reason that there are few better ways to literally amplify a speaker's message. There is an impressive level of variety in the types of microphones you can use for conferences or trade shows. Unidirectional mics, which only pick up sound from a single direction, are useful for making sure only one person (and no background noise) is captured while bidirectional mics make it easy to share between two people in order to deliver conversations to the audience. There are also headset or lapel options so your speakers can have their hands free. This can be a perfect option if, for instance, you are giving a product demonstration while talking.
Speakers
Whether you are hosting a video presentation, guest speakers, or an end-of-conference band performance, speakers are what give you the ability to project sound with pitch-perfect precision. Acoustics is a science unto itself and there are many different factors that can affect how sound gets transmitted from the size and position of the audience to speaker location to the size and shape of the room to even what material the curtains are made of. Fortunately, for every audio need, there is a speaker to match.
Projection Screens
Whether you are showing videos, making PowerPoint presentations, setting up a backdrop, or employing the humble overhead, projection screens are a mainstay of almost any conference or meeting activity. Projection screens can be large or small, drop-down or tripod, and are integral to the delivery of any number of visual options. Like speakers, there are numerous types of projection screens that are suitable for different sizes, projector positions, and ambient light. With the right type of screen and projector, you can deliver crystal-clear images even in direct sunlight.
Projectors
If you're using a projection screen, the image has to come from somewhere, right? Professional-quality projectors are as common as the screens themselves and have continued to modernize as technology improves. Whether you are looking to wow trade show or conference audiences with cinematic quality or give a slide show in a boardroom, there's a projector perfectly suited to the task.
Video Conference and Webcast Technology
There is a fair level of overlap between the devices used to support live video conferencing and live event streaming over the Internet. In both cases, the goal is to deliver smooth, uninterrupted feeds that maintain a high level of quality despite the signal crossing large distances. Depending on the needs and the type of event, you could be transmitting over hosted webcams, boardroom cameras, or even Hollywood-style multi-camera arrays.
atmosphere
atmosphere is a 4k Ultra High-Definition visual system made up of four screens. The screens can be interconnected to create stunning, singular backdrops or images, or they can be split up to deliver multiple views or angles. atmosphere is most commonly used to enhance events and help draw audience attention rather than being the centrepiece itself. For business conferences, atmosphere might be used to display key products or serve as an additional tool during the presentation and switch between unified and split images as needed. If you are performing a product demonstration, atmosphere can help show multiple points of view, close-ups, and other useful visuals simultaneously.
LED Walls
LED video walls can serve similar roles to projection screens in the sense that they play host to various images, video, and so on. Where they differ is just how LED walls can be used. As a purely digital medium, walls can be placed without need for a projector and can often deliver stronger video quality and colour saturation. This makes them useful for showing detailed videos or images that can help show off your brand. Additionally, some LED screens can be set up with touch support, allowing you to create interactive moments for people if screens are set up around a conference floor or trade show.
Other Useful Meeting or Conference Equipment
Audience Response Systems (ARS)
Sometimes known as a "clicker," an ARS is a device that lets audience members swiftly participate in presentations. If you are holding a planning meeting or shareholder conference, ARS can be used to quickly poll the audience or take votes on important matters. During training sessions or informational meetings, ARS can be used to gather feedback or gauge audience knowledge without making people feel like they are put on the spot (since they don't have to speak).
Simultaneous Interpretation
Simultaneous interpretation is a valuable feature for any meeting or conference event where not everyone shares the same language. Real-time interpretative services allow audience members to hear presentations and speakers in the language of their choice and stay engaged without delays. For the hearing-impaired, simultaneous text streaming is also available.
Get Your Audiovisual Services in Toronto From bb Blanc
bb Blanc is a full-service live event company based in Toronto. We pride ourselves on "creating event magic" through the use of the latest technology for audiovisual display and support. Our top techs have an arsenal of top-of-the-line equipment that can be rented to suit the AV needs of any conference or event. Unsure about what will work best? Tap our brains for the advice you need and let our techs get to work! For more information on bb Blanc and the unique additions we can bring to your corporate gatherings and special occasions, feel free to contact us by phone at 416-360-0440 or by e-mail at info@bbblanc.com.