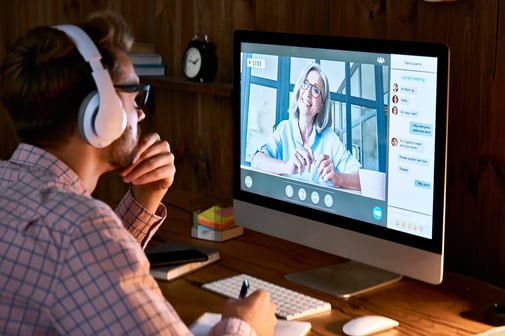 The new year is on the horizon! Another year of navigating through a global pandemic in the books. What can we look forward to in 2022?
More in-person events? More hybrid? New technology? Only time will tell.
Recently, I had the pleasure of attending a couple of hybrid events, as an online participant.
One was a Canadian Association's Annual Conference and the other was a US software company's large User Conference.
Here are my learnings:
Pro's
🔵Both had a mix of good/relevant content that was available to both audiences.

🔵 Both had content that was tailored for each specific audience. I liked this because for my virtual sessions it felt more intimate. I could connect with not only the speaker, but the other virtual participants – as we were all in the same boat.

🔵 At the Association conference, during the sessions that both audiences had access to, I enjoyed the fact that the speakers were taking questions from both audiences. Having that involvement made me feel like I was still an important part of the event as a whole. The larger conference did not offer this. I was more like a fly on the wall and watching a keynote speaker was like watching a TED talk on YouTube.
Cons
🔵Based on the agendas, both primarily catered to the in-person audience, leaving me with a wicked case of FOMO.
🔵 The best content, speakers and extra-curricular activities seemed only available to the in-person audience. I couldn't help but feel like the second-class audience.
🔵 For the smaller event, there were online attendees I spoke with who would have attended in person yet registered too late and the event was at capacity. Meaning it wasn't their choice (like it was mine) to participate from home.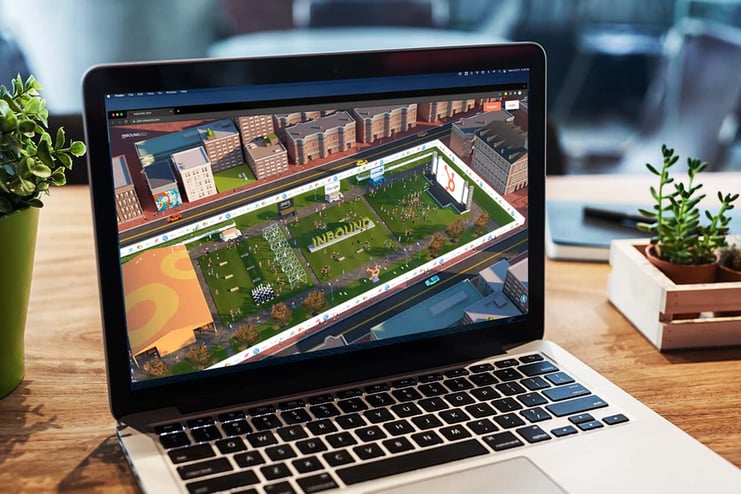 Elements that could be done differently
During the Q&A with the speakers, when members of the in-person audience were asking questions, the camera stayed on the in-room speaker most of the time. As a member-based event it would have been beneficial and simply nice to see our fellow members, creating a true sense of community.
No matter where the audience, Audio is crucial. In some cases, the sound was simply being picked up from the room and not a dedicated Q&A or presenter microphone. This of course requires "buy in" from the attendees who need to remember to use the microphones so everyone can hear, in room or not.
A potential add-on to help integrate the two audiences could have been the ability to show the online attendees & our faces on the screens in the event ballroom. Instead, there was a moderator reading our questions to the speaker.
Events are dynamic & will continue to evolve
As we continue to learn and challenge ourselves to progress, we can evolve and offer better solutions to our audiences. After almost two years, the standard has been set. There is no room for subpar. Online audiences deserve better.
Remember, when it comes to hybrid your audience is either in-person or online. Continue to evaluate how to maximize the experience for both.
As companies and organizations are excited to return to in-person events, don't forget the folks that may not feel comfortable travelling yet, or being in large groups.
We have the technology and the know-how to enhance the impact for both audiences. Invest in the right solutions and your audiences, online or in person, will value what you have done for them, creating the best overall experience for all, and a higher return on your investment.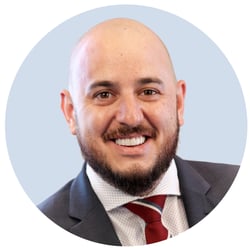 About the Author: Mark Awad is Director of Business Development at bb Blanc. Mark has enjoyed being an attendee for numerous in-person, virtual and hybrid events. With more than 14 years in the event industry, Mark can lend you his expereince and insight when it comes to creating event magic.
To discover ways to enhance your attendees' experience, maximize your investment and deliver exceptional events connect with bb Blanc.
"Creating Event Magic" is our guiding philosophy. Founded in 2008, bb Blanc is a Canadian-owned and operated live event company supplying award-winning audiovisual/staging production and entertainment to both corporate and social event markets.
Whether it is virtual, in-person, or hybrid, our team is here to support your unique event needs.
bb Blanc is committed to showcasing a clients' vision with a personal touch.