Lighting production for corporate events is a great way to enhance your brand's image. If you're planning to use event lighting rentals in Toronto for your holiday party, industry tradeshow, conference, seminar, or employee recognition dinner, you will be able to establish your identity as a business in a memorable way. There are many reasons why event lighting can enhance your event, and here's what you need to know.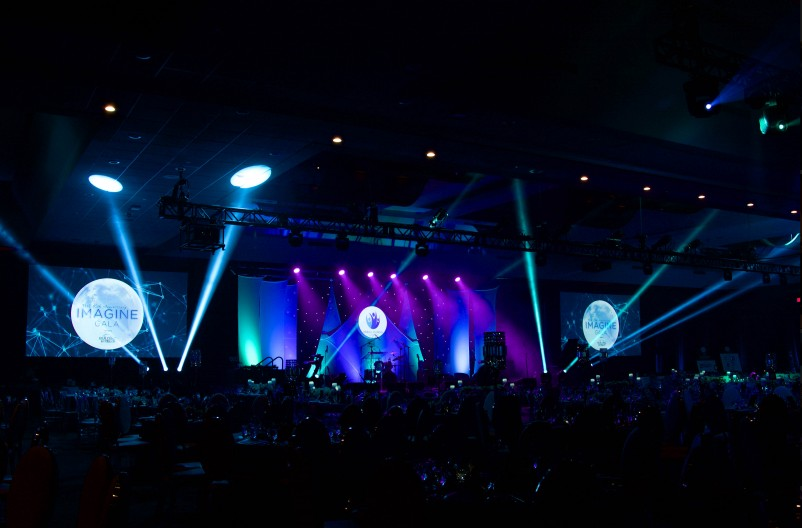 The Importance of Lighting for a Successful Corporate Event
Enhances the Mood
Colour affects our moods, and with the right lighting you can help your guests feel more connected to your brand. Bright colours bring about a joyous atmosphere, while darker colours are associated with night life. Depending on the theme and mood you want to set, you can set up lights with colours that evoke those feelings.
Change Your Guests' Experience
Stage lighting is one of the most important parts of a corporate event. Guests should be able to clearly view the stage and see the speakers or performers no matter where they are in the room. The right lighting can enhance a guest's experience and engage them in the main points of the presentation.
Entertain and Mesmerize Your Guests
Lighting can entertain and mesmerize your guests all at once. By using this tool properly, you can set the tone for the entire event, and let guests know what kind of event they can expect. Whether you want the event to seem high-class and elegant, or trendy and artsy, lighting plays a huge role in setting that tone. Professionals can help you create displays and light shows that will get your attendees interested, entertained, and engaged.
Emphasize a Client's Brand
Lighting is a great way to decorate an event and emphasize your brand's features and story. You can make your brand stand out by working with your colour palette, emotional atmosphere, and tone, and incorporate them into a solid lighting plan to achieve those goals.
Enhances the Overall Appearance or Ambiance
If you want to create ambiance and set the tone of your corporate event through lights, professionals can manufacture stencils, beam messages, and display images across any backdrops of your choice. If the walls of the venue seem dull, professionals can create light columns, and project lights to decorate the ceiling and walls. The light technology is so versatile, you can even change the colour of the entire room.
Allows the Photographer and Videographer to Capture Magnificent Memories
Indoor events, especially at night, can be a poor place for good photographs and videos unless good lighting is set up. Depending on your event, you may want to capture beautiful photographs and videos, and this is where good lighting is so important. bb Blanc is able to design and install beautiful event lighting so that you can capture magnificent memories.
Creative Ways to Use Lighting at Your Corporate Event
Uplighting
Uplighting involves the placement of specialty lighting fixtures at the base of columns, trees, ferns, or other greenery to create streaks of light. The effect created results in beautifully textured shadows on nearby walls and ceilings.
Pin Lighting
Pin spot lighting is when focused beams of warm, white light are projected onto the top of a table as a focal point. This makes the room look cozier, allows guests to see each other's faces and their food while socializing, and creates a unique atmosphere.
GOBO Lighting
Short for "Go Before Optics," GOBO lighting is comprised of a small stenciled circular disk that projects an image or pattern onto a wall or screen. You can use this technology to show your company or event logo.
Projection Mapping
Instead of creating massive art pieces and designs, you can use projection mapping technology to enhance the look of a room. The technology implements video projections and posts a digital image onto a flat screen or wall. As the light is mapped to the surface, you can portray static or interactive images and displays for your guests.
Outdoor Lighting
Do you want your brand logo on the front of the venue's walls? Outdoor lighting and projection mapping makes this possible. You can also use outdoor lighting to line the walkway to the doors, or to illuminate the architecture of a beautiful or historic venue.
Stage Lighting
Stage lighting is a crucial element for your event, especially if you have speakers or performers. It provides visibility so the audience can see exactly what you need them to. It also helps to set the mood if there is a performance, and reinforces the story by following the speaker and highlighting key items on stage.
Corporate Event Lighting Rentals in Toronto
Organizing a great corporate event takes commitment, planning, precision, and attention to detail. If you're planning a corporate celebration or event and are unsure of where to begin, give the experts at bb Blanc a call. From corporate announcements and awards, to product launches, to retirements and employee milestones, we can help you set up an event that blows your guests away.
Our full-service, live event company is based in Toronto, and we pride ourselves on "Creating Event Magic" through the use of the latest technology for audiovisual display and support. We offer a multitude of services and features that can be incorporated into any event so guests walk away with lasting memories. Contact us for advice and our consultants will bring their expertise as they work with you to devise and orchestrate your event. For more information on bb Blanc and the unique additions we can bring to your award ceremonies, corporate parties, or live events, feel free to contact us by phone at (416) 360-0440 or by e-mail at info@bbblanc.com.