Imagine going to a restaurant that you heard great reviews about online. But, when you walk in, there is yellow lighting, dirty floors, and unorganized table and seating arrangements. You immediately question whether it's worth it to eat the well-reviewed food because you're instantly turned off by the environment. As a restaurant owner, you should never underestimate the power of a good ambiance.
To have the right atmosphere in your restaurant, you have to make sure your customers are satisfied with more than just your food and friendly customer service. It takes more than just good-smelling food to bring in new customers (although that helps!). You need to "wow" your guests and create a space that encourages them to come back time and time again.



Boost Your Restaurant or Bar's Success with a Great Atmosphere
When creating the perfect restaurant atmosphere, take some time to think about what will make your customers feel extra special. Every restaurant has its own branding or theme, so before setting up your venue, imagine how you want the design to reflect your brand. How will you create the menus? What kind of customers do you hope to attract? It takes more than good hospitality—taking advantage of your theme is a great way to entice customers. If you serve authentic Indian food, for instance, place traditional art and décor that suits the ethos of your cuisine and play cultural music so when your customers walk in your door, they will feel like they've travelled to a new country.
Every sense is needed to fully enjoy a great meal, so play music that sets the mood, choose a colour that complements the menu or vibe, and bring in materials (seating, tablecloths, cutlery, glasses, etc.) that are pleasant to the touch. Choose each element carefully so your customers want to take their time and enjoy their experience in your restaurant or bar.
Plus, customers who feel comfortable in your establishment will return again and encourage their friends and family to check out your spot too. Word of mouth is the most valuable form of advertising, and you can make the most of this by ensuring your ambience is just right.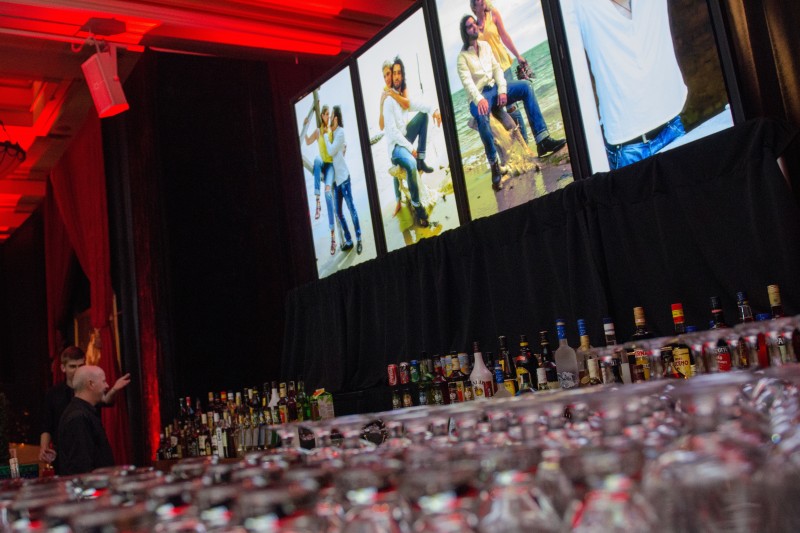 What Makes a Good Restaurant Ambiance?
Here are few elements you can add that will transform your venue into a truly unique experience for your customers.
Lighting
When choosing lighting for your restaurant environment, think about the food you serve and the mood you want to set. There's a lot you can do with lighting: If you have a theme or desired ambience for your restaurant or bar, make sure the lighting reflects that. If your bar gets most of its customers in the evening, don't use bright, harsh lighting. This kind of lighting may be great for breakfast cafés, but at night, people want to wind down and relax, which means you should choose softer tones and even experiment with colour to give off a fun vibe for a relaxing night.
Music
Music goes a long way to creating the right mood and your choices are almost limitless. You can play hard rock, top 40, slow R&B, country music, classical, 80s and 90s lite hits, folk, jazz, and so much more. Whichever music you choose should reflect the theme of your brand. You can also play different types of music depending on the day of the week and time of day. Music played in the day should be light and energetic, and for dinner, play music that evokes a sense of relaxation and accomplishment like jazz or classical.
Clean Environment
Remember the anecdote from the introduction? Cleanliness and proper organization is key to ensuring your customers have a positive experience at your restaurant. Regardless of how much work you put into the music, lighting, and décor, if your floors and tables are dirty, and if your restaurant looks cluttered and disorganized, customers will be turned off. Make sure your windows, glasses, and mirrors are polished; dust shelves and displays; make sure the artwork is straight; and keep the floors clean and dirt-free.
Entertainment
If you provide restaurant entertainment in the form of live music or performers, you'll set yourself above your competitors and give customers yet another reason to eat at your location. Let's say you own a classy upscale restaurant and want to evoke a relaxing and romantic vibe. What better way to create the perfect ambiance than to set the mood with sultry jazz musicians to serenade your guests? From live music and DJs to performers and entertaining masters of ceremonies, you can kick it up a notch with the right live entertainment.
atmosphere
If you want to transform the ambience of your restaurant or bar with one simple solution, consider bb Blanc's atmosphere. This system is the first 4K Ultra High Definition ambience and entertainment platform for restaurants and bars with the most vivid visuals imaginable. You can choose from our awe-inspiring library of industry-grade film options or incorporate your own custom content on four synchronized displays, each combined with impeccable sound quality. Available as a permanent fixture in restaurants, bars, casinos, or hotels, our technicians will take care of all the installation details for you. Anything's possible with atmosphere and your guests will love this unique entertainment solution, exclusive from bb Blanc.



Create a Unique Ambience at Your Restaurant/Bar with bb Blanc
Ready to create the perfect ambiance in your restaurant or bar that keeps your customers coming back again and again? At bb Blanc, we provide a variety of entertainment solutions that your customers will never forget, including entertaining MCs, DJs, musical acts, live performers, and audiovisual solutions, such as our state-of-the-art atmosphere technology.



Our full-service, live event company is based in Toronto, and we pride ourselves on "Creating Event Magic" using the latest technology for AV display and support. We offer an amazing multitude of services and features that can be incorporated into any venue, so your customers can walk away with lasting memories.



Contact us for advice and our consultants will bring their expertise as they work with you. For more information about us and the unique entertainment solutions we can bring to your restaurant or bar, contact us by phone at (416) 360-0440 or by email at info@bbblanc.com.