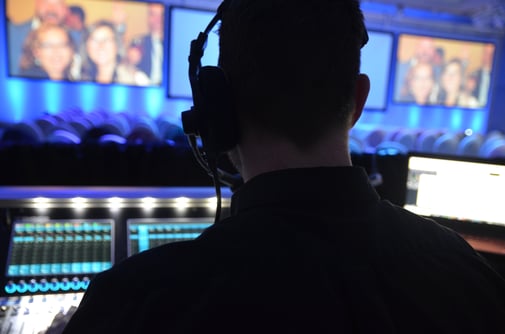 Events come in many shapes and sizes, each of them unique.
We pride ourselves in being able to provide a personable technical team and event technology that will be there, from start to finish, no matter what your event needs.
If main tent, breakouts, gala, gamification, portals, pan & tilt, virtual, hybrid or in-person, are just a few of the things you manage day to day, here some ways bb Blanc can help you.
Meetings & Conferences
From basic meetings to large multi-day conferences, and everything in-between, we are dedicated to helping you better understand event technology and how it can enhance your events.
Screens and projectors to custom backdrops with LED, drape, lighting, event specific audio or tailored stages, we can help determine what you do need, and better yet, what perhaps you don't, when determining the ideal solutions for you.
Theming, audience size, presenter styles, room dimensions and specifications all play a role in determining your event tech.
Our knowledge and know-how are available to help educate you, your team, and those involved in producing your events. In-person, virtual, or hybrid. Lean on us.
Creating a superior experience for you, your presenter(s) and the attendees is at the core of every recommended solution.
Virtual Event Solutions/Studios
Many events are taking advantage of the ability to go online, either completely virtual or as a hybrid model.
Our state-of-the-art in-house studios allow you to energize and engage from one place. Broadcasting events require a solid back-end team that are technically savvy and able to coach you and your presenters to event success.
If studios are of interest to you, learn more about ours here.
If you need us to come to you, or a location you've selected, rest assured we have the capability to support virtual/hybrid events there too.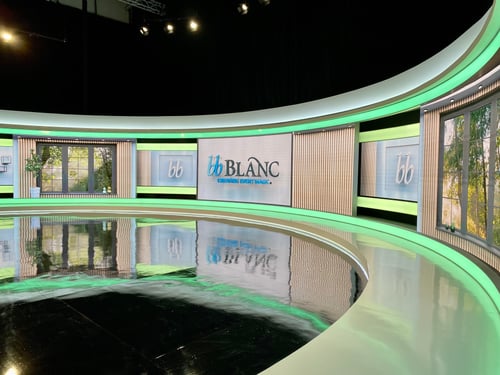 Recording & Content Creation
Recording not only extends the life of your event, it can also increase the return on your investment. Creating highlight videos, connecting with remote attendees or promo videos for future marketing promotions, viewers are looking for exciting content, and quality is key.
If you need videos, PowerPoint, logo loops or anything in-between, we have the resources available to assist you in supporting your event content needs.
We get to be involved in many events, with different ideas and solutions when it comes to branding solutions and best practices. When in doubt, reach out, we are happy to share this insight with you.
Interested in recording your event? More details here.
Platforms
Many events have benefited greatly from an online presence over the past two years. From expanding an events' reach, to increase brand awareness and accessibility, the benefits are tangible and may play a vital role in your event strategy success.
Do you have a preferred platform? Are you taking full advantage of your tech stack? Are your back-end metrics available to you and are you able to review?
If you are looking for online and digital platform support, we are fluent in a variety of live stream and platform options. Our experience allows us to incorporate any of them into your virtual event.
Check out how platforms can support your event needs here.
Galas & Special Events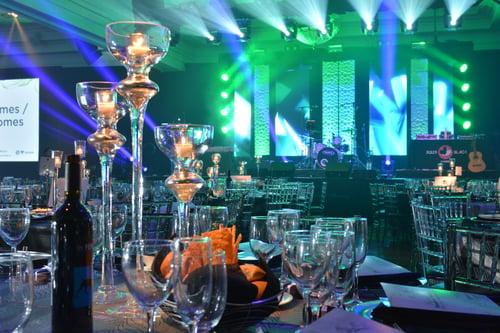 Galas and Special Events are great times to bring out our best suits and elegant gowns and attend a sophisticated evening out. A time to get together to support a great cause, honour the accomplishments of our peers, and award industry dignitaries.
Whether awards are being handed out or money is being raised for an important charity, it is important to have a production team that understands the nuances and flow of the evening.
Providing a memorable night for your attendees and everyone involved. Creating memorable moments. Curating experiences. Designing exceptional events.
Galas and special events require a custom-tailored solution, designed with you and your attendees in mind.
Will it be a grand sit down affair, and outdoor party, or an online auction? All require production value that is in tune with your events' needs.
Trade Shows & Exhibits
Trade shows are a great way for companies to get in front of their customers. We understand trade shows can come in all different shapes and sizes. This means that audiovisual design needs to be geared not only toward engaging attendees and exhibitors yet also convey the trade shows main message.

We can partner with you on everything from booth design, overall event production, or presenter support. Count on us to find a exceptional solution for your networking and business needs.
Whether it's a main stage for performances, presentations, and shows, strategically placed speakers throughout the hall for announcements and music, or flat screens for digital signage, wayfinding, schedules, maps, sponsors, agenda, etc.… we've got you.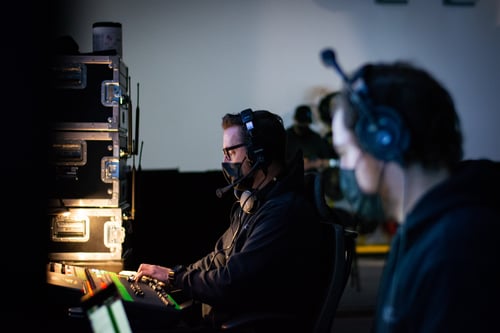 Technical Event Management
The bells and whistles are great, however at the end of the day, events are about people. People who attend and people behind the scenes who make it all work.
Your event requires technical support to help ensure success. We are committed to the best people in the right roles to ensure event success.
Our team is passionate about creating magical event experiences for you and your attendees. They are driven to succeed, and passionate about customer service.

🔵 Collaboration
🔵 Expertise
🔵 Commitment
Events are the culmination of a detailed strategy, not simply what happens at the event.
We take the time to talk to you, have a conversation, understand your needs and work with you to determine how best to achieve your event goals and objectives.
None of us is as smart as all of us.
We are here to collaborate with you. Together, let's make your events magical✨
bb Blanc is committed to showcasing a clients' vision with a personal touch, "Creating Event Magic".

Canadian-owned and operated, bb Blanc is a live event company that continues to supply award-winning audiovisual/staging production and entertainment to both corporate and social event markets.
Whether it is virtual, in-person, or hybrid, bb Blanc is here to support your unique event needs.

Connect with us today.