While your corporate event is in motion, you want to ensure that your guests have a great time and are safe. The last thing you want is to have your guests trip on wires or bump into equipment that's blocking their way, especially when using heavy equipment or providing live entertainment. The best way to maximize your floor space and ensure everyone's safety is through something known as truss and rigging. What exactly is that? With truss and rigging, equipment is attached to the roof of an event space to provide clear sight lines to the stage area and to create a clutter-free environment for the audience to freely move around and connect with each other. Sound like the ideal solution for your next event? Here's what you need to know about renting event rigging services.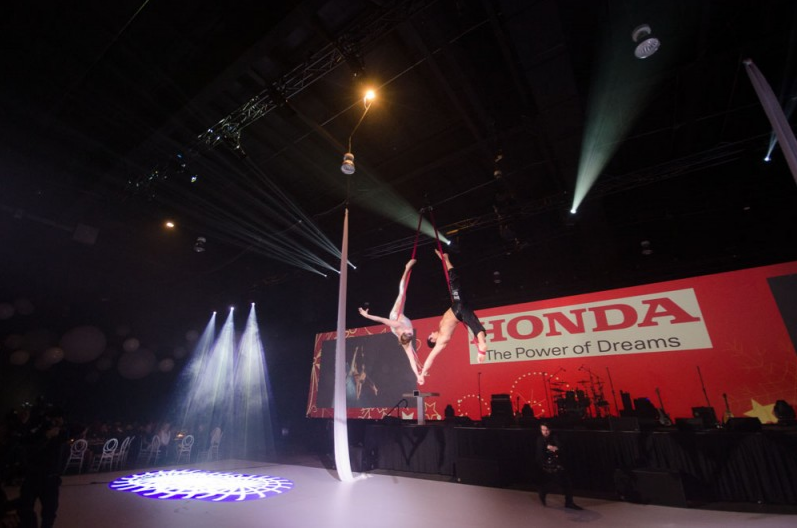 What Is Rigging and What Are Trusses?
Rigging is when equipment/material is temporarily or permanently suspended or attached to the ceiling of a venue. The equipment could be suspended using chains, steel cables, or hoisting equipment. The great thing about rigging is that it's versatile. In fact, there are all kinds of sizes and types of rigging to meet the needs of each event. The hoisting equipment is usually attached to trusses, which are a construction of welded aluminum tubes made in various lengths. These trusses operate as a suspension system for equipment and materials. They are relatively heavily loaded and are needed in almost every medium- to large-scale production.



The Rigging Dictionary
Rigging points: Designated places in the ceiling where equipment can be hung. These areas are regulated and maintained to ensure the weight limits are appropriate.
Rigging plot: This is a diagram that shows where the rigging points are and where equipment can be hung from the trusses throughout the room.
Truss: The metal framing attached to the ceiling by the motors and the rigging points. All equipment and materials including but not limited to: lighting, projectors, speakers, and their associated cabling are attached to this frame.
Cabling: These cables provide power, signal, and networking for all the equipment. They are carefully run along the truss for overhead equipment and on the floor for the rest.
Motors: Attached to the rigging point and the truss, these small machines allow technicians to lower the truss to connect the equipment, then raise it back to the ceiling.
Aerial Lift: This machine is essentially a vehicle, which is driven around and used to lift one to three people as high as needed. Generally, either a scissor lift or boom lift. Safety is a big concern with this lift, so technicians must be very careful.
When Should I Use Truss and Rigging?
Truss and rigging allows for greater flexibility when designing your event. It can be used theatrically to enhance the effectiveness of lighting, audiovisual, staging, and creative components, and it can be used to clear the floor area, so guests can mingle and clearly see the stage and onscreen content. If you're planning a festival, concert or musical performance, product launch, catwalk or fashion show, corporate presentation and event, theatrical production, or a school production, rigging solutions are a must-have.
Take for instance performances like Cirque du Soleil and the Trans Siberian Orchestra. These high-energy, world-class performances use incredible lighting, curtains, and displays, and they even lift performers into the air above the audience. Truss and rigging are used to safely allow the showcase to be seen by the entire room and completely immerse the audience in a performance, while allowing the majority of the floor to be covered in seating for attendees. The sky is the limit with truss and rigging—literally!



Creative Ways to Use Truss and Rigging
Need a little inspiration? Here are some creative ways companies like yours are making use of this technology:
Lighting: Truss and rigging provides a creative way to display lighting themes on the floor. For example, if you're using a nature theme, you can project a grass or forest pattern on the floor. If you're creating a night theme, twinkling stars can be cast along the walls to display a magical night sky. The creative options are only as limited as your imagination!
Banners and Signs: Do you have multiple stages at your event? Make sure your guests know where to go by suspending signage high above each stage. Not only does it help with navigating the event space, but it's also a prime opportunity to display promotional content and branding by incorporating your company logo or the logo of your corporate sponsors.
Aerial Entertainers: As mentioned before, cirque performances almost always involve some sort of truss and rigging system. Dancers and performers are attached carefully to the rigging and can be carried over the audience's heads for a dramatic, up-close experience.
Décor: Have you ever watched one of those televised singing competition, like American Idol? Notice how when the winner is announced, balloons and confetti suddenly come pouring down on the stage to enhance the moment and magnify the celebration? How did they do that? The stage designers used truss and rigging to suspend balloons and confetti to the ceiling—and you can do that too at your next awards show or fundraising event.
Why You Should Hire Professionals for Truss and Rigging
Generally, the venue will charge you if you want to use the truss and rigging system; however, the largest cost you might incur is for the labour to set up the equipment. As an event planner, you can't just hire anyone to set up the system; you'll need to hire professionals, known as "riggers". These professionals must be trained and able to properly handle this aspect. Truss and rigging techniques focus heavily on safety and compliance. Any time you hang something heavy overhead, the risk of injury rises significantly. Incorrect rigging could cause heavy lights, sound, and decorative equipment to fall and cause serious damage. Since safety is a huge issue, professional riggers may charge you for insurance.
As most corporate event planners know, this set up cannot be done in-house. Your best bet is to speak with a professional event staging and rigging company in Toronto; share your ideas for your event, state your budget range, and let them create a customized solution that meets your needs. Outsourcing this role to staging service providers is the only way you can safely and correctly set up an entertainment solution that will blow your audience away. There are many options for truss and rigging that can keep your costs low, if that is a primary concern, so talk to an event staging company to get some ideas!



How bb Blanc Helps Corporate Event Planners with Truss and Rigging
The key aspect of any event production is its core, and for many events, the trussing and rigging system is that foundation. That's why as an event staging company in Toronto, bb Blanc prides itself on investing in the most innovative and up-to-date rigging solutions and equipment. Our event staging products and services includes custom staging and set design, truss and rigging, and draping and décor. We constantly update our inventory with the latest technology to ensure our clients are getting the best quality solutions available for their event productions. We use the highest industry standards and hire expert installers to perform all rigging installations, so you can trust every piece of equipment is safely and securely mounted, and ready for action. From consultation and designing, to installation and event management, to inspection services, we can help you execute your event from start to finish.



Event Staging and Rigging Solutions in Toronto
At bb Blanc, we provide competitive service to our clients and recognize the importance of helping you create an event that amazes your audience. We specialize in sound, lighting, entertainment, staging services, and more, and we provide our services to theatrical performances, festivals, weddings and private hire, corporate events, conferences, exhibitions and trade shows, fashion shows, presentations and product launches, branding events, social events and parties, and more.
Our social and corporate audiovisual services in Toronto can be incorporated into any event. If you need advice, call us and our consultants will bring their expertise as they work with you to devise and orchestrate your event. For more information on the unique additions we can bring to your award ceremonies, corporate parties, or live events, feel free to contact us by phone at (416) 360-0440 or by email at info@bbblanc.com.