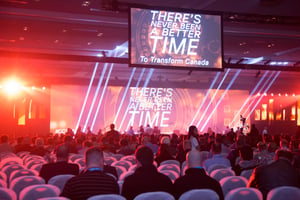 When you find yourself trying to plan an event in Toronto, whether a wedding, corporate meeting, charity gala, or anything else, it is often to your advantage to engage the services of one of Toronto's event production companies. The reason is relatively straightforward: event production companies are experts at unifying numerous technical and creative elements, providing top-quality entertainment, and helping clients craft memorable and unique experiences for guests. By engaging audiences directly through creative audiovisual and entertainment options, social event production companies are able to amaze, impress, and wow, making people come away with a smile on their faces and memories that will easily stand the test of time.
Event Production Companies Can Help with Corporate Events
When it comes to corporate event production, larger consideration needs to be given to branding and how a company's central message is delivered throughout various aspects of the event. The way these themes and ideas are incorporated into how an event is produced can influence the success of the overall evening.
Meetings & Conferences
Any official gathering, such as general meetings, stockholder meetings, or regional conferences, can benefit from the types of audiovisual technology that event production companies bring to the table. With strategic placement of screens and speakers, crystal-clear visual transmissions, and pitch-perfect audio, entire auditoriums or conference halls can witness presentations and speeches as easily as if it was in a one-on-one setting. The incorporation of webcasting and video conferencing technology also helps to ensure that key personnel can attend and participate regardless of geographical distance.
Awards & Galas
One of the trickier aspects of event production for awards or gala ceremonies is the need to balance the formality of the event (it is an official function after all) with the inherent relaxed and celebratory atmosphere. Lighting and set design play a large role in this, and event production companies can expertly tailor the right mood to captivate audiences. Talented and entertaining speakers can help manage the flow of events, introduce award winners, and otherwise keep everyone on point while keeping smiles on the audience's faces.
Launch Events
Launch parties serve a dual purpose of letting employees cut loose and celebrate the release of their hard work while also building excitement and anticipation among the public. Audiovisual technology can be harnessed during these events in order to captivate and entertain. You may even wish to take a cue from weddings in the form of a fond look back that shows the audience highlights of design and development before cutting loose with the dance floor.
Trade Shows
Trade show presentations are unique among corporate events since you are not always guaranteed an immediately interested audience. You are also essentially competing with the other companies at the show for the biggest, most lasting impression. Live event production companies can play a large role in ensuring trade show presentations are a success through a combination of set designers, stage plans, audiovisual arrangement, and more.
Event Production Companies Can Help with Social Events
In addition to different types of corporate events, event production companies in Toronto can readily assist with a variety of social occasions as well. Many social events, such as weddings or bar/bat mitzvahs, are the sort of festivity that people have eagerly awaited, and they have likely built an ideal vision of how the event should go. It is the responsibility of any good event production company to listen to these desires and come up with creative ways to bring such visions to life.
Weddings & Receptions
A wedding is a big event for all parties involved. Every couple has different ideas about what they want for the big day—some have been dreaming up ideas and specifications for years while others have their thoughts in broad strokes rather than specific details. Event production companies are able to listen to these desires and offer suggestions for how to bring them to life as well as how to make them work within the available wedding budget. Audiovisual technology can play a large role in wedding celebrations, from creating highlight reels of the couple's time together to the customized playlist that invigorates the dance floor.
Milestone Celebrations
Bar/bat mitzvahs, anniversaries, graduations, and more all have one essential thing in common: each occasion represents a big marker in a person's life and is a popular reason to bring friends and family together and celebrate. Event production companies can help keep these festivities filled with mirth and merriment with a top-quality mixture of audio and visual technology and live entertainers.
Look to bb Blanc for Live Event Production in Toronto
bb Blanc is a full-service, live event company based in Toronto. We pride ourselves on "Creating Event Magic" through the use of the latest technology for audiovisual display and support as well as an arsenal of talented live entertainers. Unsure on what you want? Tap our brains for advice and our consultants will bring their expertise to bear as they work with you to devise the audiovisual arrangement and entertainment plans that best suit the needs of your event. Have a specific vision in mind? Then we'll work with you to learn your exact desires and bring them to life. For more information on bb Blanc and the unique additions we can bring to your weddings, corporate gatherings, or other occasions, feel free to contact us by phone at 416-360-0440 or by email at info@bbblanc.com.