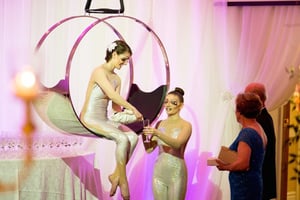 Few things can cement an event in audiences' minds like quality entertainment. Whether people come away after a wild night of dancing, watching acrobats or magicians, or having a blast with a photo booth, the key element is that their top-quality experience has formed an enduring memory. Here are just a few ideas on the types of entertainment you can use when looking for ways of Creating Event Magic.
Event DJs
Whether it's for a wedding, corporate gathering, charity event, bar or bat mitzvah, or any other occasion, DJs remain a popular staple and for good reason. Music is a powerful force that's able to shape the tone and mood of an event and cultivate your ideal atmosphere. If you are hosting a formal lounge reception, then a DJ can craft an elegant ambiance with background music. If you are having a more spirited gathering, then a DJ can crank up the beats and deliver a steady stream of songs guests can't help but move their feet to. If you are holding a corporate meeting or conference with lots of speakers, then a DJ can help add some spice to the procession by giving each person their own intro and outro tracks. The bottom line is: if your event uses music in any form, then a DJ's skill, style, and expansive music selection should be at your disposal.
Musicians and Bands
Although DJs are an amazing addition to events, sometimes live musical entertainment is the only way you want to go. For these occasions, musicians and bands can bring your musical needs to life. At bb Blanc, we offer a wide variety of musical talent across numerous genres, instruments, and cultures. Need a string quartet for formal ambiance? A jazz band for evening dining? Steel drums for Caribbean flair? Samba? Rock? Barbershop? bb Blanc's extensive catalogue of live musical talent can offer exactly what you want to bring to any type of event.
Magic and Wonder
Sometimes, "Creating Event Magic" involves actual magic, so why not wow your audience and guests with the reality-defying tricks of a top-notch magician? This type of act can come in a few different forms. For instance, you can have a magician tour between the tables and offer guests one-on-one interactions and tricks with a focus on cards or small props ("street magic"). Alternatively, you could make the magician the central performer and let them work their magic upfront and with larger-scale tricks ("stage magic"). bb Blanc has several different magical performers on hand so that you can pick the style that best suits your needs.
Dancers
Professional dancers bring a unique level of choreography and talent to event entertainment. World cultures are rich with traditional dances, coveted styles, and routines that can entrance and amaze. Hiring dancers for your event lets you provide an unforgettable moment to your audience. Rally spirits with cheerleader-inspired performances, boil passions with a stylish samba, hypnotize with a ribbon dance, wow with Broadway or Bollywood numbers, and more. If you really want to draw attention, you could even put together a flash mob dance that can truly deliver a spontaneous moment of energy and fun.
Cirque Acts
The circus is home to many amazing entertainment options, and now you can draw out the same wonder and joy without needing to go to a big top. Much like magical acts, you can hire cirque performers to mingle and interact on a more individual basis or you can let them take centre stage and put on a full show. Possibilities include acrobats, jugglers, aerialists, cyr wheels, tumblers, and more!
Entertaining MCs (EMCs)
Any large event, from a wedding to an anniversary bash to a product launch to a corporate meeting, works best when there is someone able to keep everyone on track and help guide the flow of activity. This is usually the role of an MC (master of ceremony), someone who will introduce speakers, alert guests about the schedule, and help make sure everything is on point. Entertaining MCs take this duty one step further and engage audiences with a smile and good humour, effectively becoming an act unto themselves. When you want to keep activity flowing and the smiles aplenty, an EMC is one of the best picks to make.
Photo Booths
Photo booths are a fun addition that lets guests cut loose and show off their silly sides. Whether you opt for a mall-style booth or a larger display with backdrops, guests will be able to take their own personalized photos. With an accompanying bundle of props and toys, imagination truly is the limit. Photo booths are an amazing way to let guests leave personalized messages for the hosts, make unique souvenirs, and even upload images instantly to social media if you so choose.
Look to bb Blanc for Event Entertainment in Toronto
bb Blanc is a full-service, live event company based in Toronto. We pride ourselves on "Creating Event Magic" through the use of the latest technology for audiovisual display and support as well as an arsenal of talented live entertainers. When you come to us for party entertainment, we work with you to understand the needs of your event and can offer input or advice on different acts so you and your guests can have the most memorable time possible. For more information on bb Blanc and the unique additions we can bring to your weddings, corporate gatherings, or other occasions, feel free to contact us at 416-360-0440 or at info@bbblanc.com.