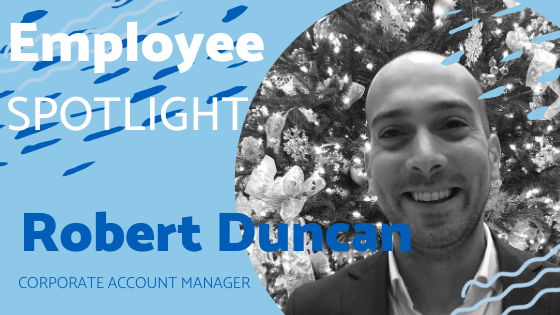 Originally hailing from London, England, Robert moved to Canada when he was 6. While he lost his accent, his English humour is still well intact. Robert got his start in the industry back in 2004 as a business centre rep which propelled his journey to corporate audiovisual production. "Robert demonstrates all of bb Blanc's core values. One in particular that stands out is "Effective Communication and Teamwork" Robert is a great team player, and is always offering to help out in any scenario!" says General Manager, Ryan Smids.
We caught up with Robert to learn a little more about what drives him both professionally and personally.
What are three things left on your bucket list?
Visit Switzerland

Visit Brazil

Get a licence
You're happiest when...
Watching my Premier League team (Liverpool) play – and they're winning!
What was your first day at bb Blanc like?
It was great to meet many of my new colleagues and catch up with some familiar faces.
What drew you to the industry?
I started as a business centre representative in 2004 and worked along side an AV team. They allowed me to fill in as a PowerPoint operator on a few occasions where I gained exposure to their work and I was drawn to the excitement of live production and design.
What excites you the most about the future of the industry?
As technology is evolving all of the time it is always exciting to anticipate which new products and techniques are around the corner.
If you were a hashtag what would it be?
#ShowsInDifferentAreaCodes
Is there a quote that inspires you?
All the lyrics from Pocahontas