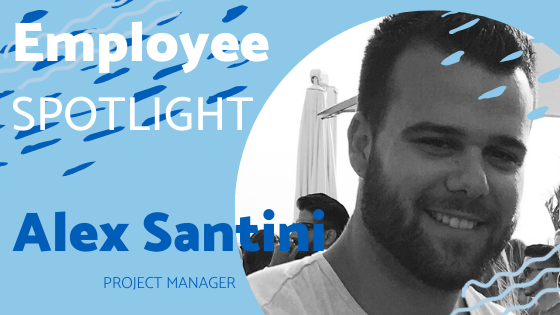 Some may call Mr. Santini a bb veteran. Celebrating 11 years this year with bb Blanc, Alex came to us straight out of high school honing his skills as a DJ and learning the ins and outs of the audiovisual landscape and project management. "Nothing to worry about when you have Alex looking after your event… he is cool, calm and collected and always ensures the bb magic is delivered for all our clients" says bb Blanc President & CEO, Rennie Colelli.
We caught up with Alex to learn a little more about what drives him both professionally and personally.
What are three things left on your bucket list?
Attend a Toronto Maple Leafs Stanley Cup Parade
Travel on Air Force One
Dj at Ultra Music Festival in Miami
You're happiest when...
When I am on the golf course crushing absolute bombs down the fairway on a warm summer's day.
What was your first day at bb Blanc like?
Unexpected! My day started like a normal Saturday on the couch relaxing when I was called by a friend to see if I was free to help on a corporate party as someone had called in sick. I had limited knowledge of the industry as I had only helped on a few small social events for our high school prior to this.

What drew you to the industry?
My friend. Prior to helping him out on the last-minute event I had no aspirations of being involved in this industry but after that day, I was hooked.

What excites you the most about the future of the industry?
It is probably cliché at this point but to see what the advances in the technology are. From when I started in this field to where we are now, such things as gear and creativity of event design has come so far and to see what is next is something I look forward to.
If you were a hashtag what would it be?
#SLAYER
Is there a quote that inspires you?
"You Miss 100% of the shots you don't take"
-Wayne Gretzky