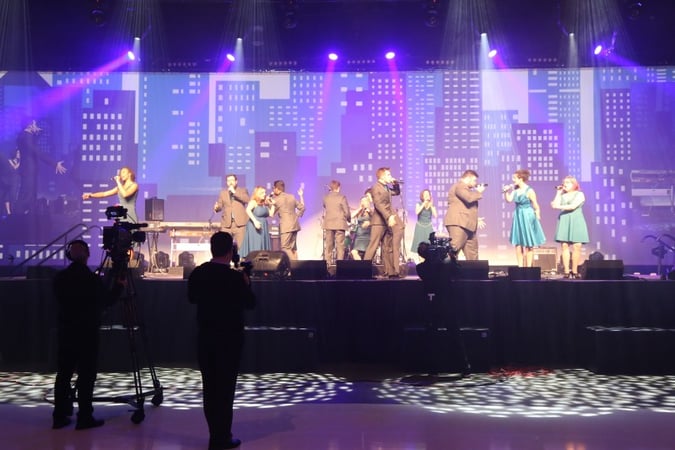 Live music/bands for corporate events and musicians for wedding entertainment are important for setting the mood and making the day entertaining and memorable. Choosing between a DJ or live musicians is up to your personal preference, but these are some facts to consider that could make one a better choice over the other.


Things to Keep in Mind When Choosing Between a DJ vs. a Live Band
Event Type
Some events work best with a live band. If your company is hosting a benefit or auction, or if you were having a black-tie affair, bands are more appropriate. For smaller, more intimate corporate parties or celebrations, a DJ is perfectly suitable. A great DJ can read the room and create a real and inviting ambiance that goes with the flow of the event.
Venue Size
A large venue can seem overwhelming and sometimes overpower your entertainment and décor if you don't properly consider the size of the space during the planning process. That's why live bands are perfect for events held in larger venues because they have a stronger entertainment and musical presence. Think about a concert venue and the power live music can have, especially when the space has good acoustics! DJs are also great for large spaces as long as they are well-prepared and equipped with the proper sound equipment to ensure the music sounds great no matter where you are in the room.
Entertainment Value
Both options are very entertaining, but each brings a different energy. Bands and DJs with years of experience will know how to create the energy you want, but live music has the tendency to get people excited and living in the moment. Hiring the right band can allow you to get more interaction between your band and the audience, which encourages everyone to have a great time. On the other hand, DJs are popular with younger crowds and can play a number of top hits and mix songs that are not only catchy but get your guests on the dance floor. However, DJs don't have a very strong stage presence. They are mostly heard and not seen. So, if that's the energy you are looking for, DJs are great at keeping your guests dancing for hours since they offer so much variety!
Repertoire of Music/Band
Bands have a few limitations. Many have a limited repertoire of music, so if you want a variety of genres and generations of music, it may be hard to find a band that does it all (but not impossible). Bands also needs to take breaks, which can cause the party to stop if you do not have background music. In some cases, bands will bring a DJ along, or play a CD while they're off stage. Make sure you ask specific questions about how your band or DJ operates, so that there are no surprises at your event. When it comes to hiring a DJ, you should find out what kind of music they are able to play. While they may have a larger repertoire, it can be hard for DJs to improvise and modify the tempo of songs. They also can't stop and restart songs like a band can and they have limited interaction with the audience.
Song Selection
If you have a specific song list for your event, there are limitations to hiring a band. Bands will typically only have 30 minutes to two hours of songs from a certain genre that they can play. However, they do have a great variety of songs to play. If you give them enough notice, these professional bands can learn a few songs by request. As for DJs, they will have an endless number of songs to choose from, so you can make request for the type of genre you want to play.
Timeframe
DJs will be able to play music for at least five hours with little to no breaks. Bands, on the other hand, may only be able to play a maximum of four to five hours including breaks. Depending on the timeframe of your event, one option may be better than the other.
Versatility
There are different types of DJs, so with enough research, you can easily find one that plays songs and music that suits your theme. It's easy for DJs to organize their own music, so even if you don't know what kind of music you want to play, they can advise you. As for a live band, although they may play fewer songs, they can change their set-list to speed up the tempo or slow it down. The size of the band is also another option at your fingertips. You can work with smaller three-piece groups, or larger ones with horn and brass players. There are many professional Toronto bands for hire, and you can find a group that works well for you.
Cost
Generally, DJs are more budget-friendly than live music, with additional fees for any upgrades. As for live music, you pay for what you get. Depending on the size of the act (solo, duo, trio, band, small orchestra) and level of performance, you will be paying more for your entertainment. If it is within your budget and interest, you can hire both! This prevents you from having to choose between the two. The live band can keep the party going, and the DJ can play music during the breaks. You can even combine a DJ and saxophonist for a jazzy combination.



DJ or live band? Still have trouble choosing? Both have their unique pros and cons and can bring the wow factor to each event they play. Whether you're looking for live wedding bands or musicians or seeking the services of a professional and experienced DJ for your corporate party, whichever option you end up going with, make sure to consult a reputable event production company. Music can make or break your event, so don't cut corners!



Hire a DJ or Live Musicians from bb Blanc
At bb Blanc, we have a variety of in-house bands that perform incredibly for both intimate and extravagant events. Need a DJ? We have those too—and our professionals have years of experience in keeping the crowd happy and playing amazing tunes.
Our unique services also include live event production, audiovisual display and support, lighting, custom staging, room draping and décor, set up for corporate events and meetings, and production for weddings and social events. We can transform any venue into a breathtaking scene that you and your loved ones will never forget. Are you unsure of where to begin? Contact us for advice and speak to our project planners to get things rolling. For more information on our special services and how we can "Create Event Magic" on your big day, feel free to contact us by phone at (416) 360-0440 or by e-mail at info@bbblanc.com.