Corporate events are usually held for one of three groups of people: employees, current customers/clients, and/or potential future customers or clients. In all three cases, the use of entertainment at these corporate events is popular and for good reason. Getting quality entertainment at a corporate party in Toronto helps deliver an experience that can cultivate an informal atmosphere, get people engaged with each other or your message, and come away with glowing memories (and, by extension, a view of your company).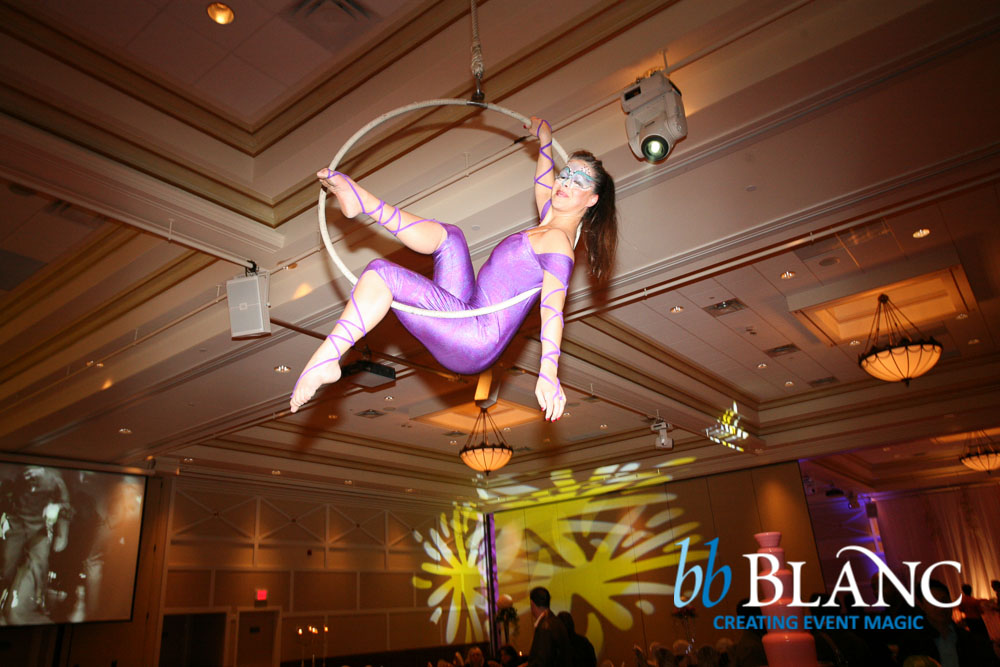 There are numerous ways that corporate entertainment can be worked into an event, from being the main focus, like at a holiday party, to ending a conference on a fun note. Regardless of how such entertainment is used, there is a lot that goes into the planning process. To help ease the burden of any event planners out there, here are some tips on what to keep in mind when trying to organize and decide on your corporate event entertainers.



What to Keep in Mind When Choosing Entertainment for a Client's Corporate Event
Always Be Aware of the Theme
Corporate events can sometimes have a theme attached to them. This can range from the seasonal (Christmas or Halloween) to the specific ('80s sci-fi movies). If you do find yourself planning for a themed party, try to find ways to incorporate it into as much of the entertainment as possible. Have a circus theme? Try jugglers or acrobats. Have a '70s theme? Look for the disco balls. You should also consult with the entertainment providers themselves to see what they come up with—the best entertainers thrive on creativity and will be glad to let you tap their brains for novel ways the theme can be worked into the entertainment.
Mind the Demographics
Disco music tends to be lost on Millennials and hip-hop doesn't work that well with Baby Boomers. These may seem like extreme scenarios and obvious errors, but it wouldn't need to be pointed out if people didn't make the mistake. It is easy for event planners to fall into the trap of giving their own preferences undue weight compared to the preferences of the guests and host. Be aware of who will be attending and ask the hosts about what they think the audience might like to see. Even if the host doesn't quite know—common in large events—they can probably tell you what not to try, at the very least.
Make Sure the Venue Is Compatible
It is always important to make sure the venue the corporate event will be held at is capable of supporting the entertainment you want to hire. With bands, this usually means making sure the stage is big and strong enough for their equipment, that acoustics in the room are good, and that there is adequate power available to run everything. More elaborate types of corporate party entertainment will require additional considerations. Aerial acts, like the abovementioned acrobat possibility, will require pre-existing rigging points or a ceiling that is capable of supporting the weight of the rigs. Some acts may be traditional but have extra elements (pyrotechnics, for example) that the venue will want to sign off on. Coordinate between the venue and the entertainers to make sure everyone is on the same page and is clear about what can and cannot be supported by the location.
Consult on Budget
As with any corporate project, it's important to be responsible with your budget and avoid going over when possible. Depending on the funds you are given to work with, this can put constraints on the types of entertainment you can hire for a corporate party. The good news, however, is that live event companies have plenty of experience working with a wide range of different budgets. Even if you are unsure whether something can be financially feasible, it can't hurt to talk to an entertainment company if they have an act you really think will be a hit. It might be possible to put your heads together and find a way to bring your vision to life.
Quality of Entertainment
This point isn't just about making sure the act is good—that should go without saying—but about looking into other signs of a quality entertainer. Is the company responsive? Do they listen to your descriptions of what you want and try to accommodate? Do they keep you informed of any developments? How about if they have plans for various contingencies like a power failure or someone falling ill? Ask to see footage of past events the company has entertained at. References you can check to get first-hand accounts of what went on are also a big plus.
Check for Insurance
Unintended injuries can happen anywhere, and some types of entertainment (aerial acts, sword swallowing, anything involving fire, etc.) can be more risky than others. Professional entertainers normally carry their own liability insurance, but it never hurts to double-check. Ask to get a copy of their insurance certificate. No one wants to be caught holding the bag if someone slips or gets burned—not only are the financial costs annoying, but now the mood of the evening has just taken a big hit.
Ask about Fees
This issue usually comes up due to miscommunication rather than any attempt at deception, but it's important to make sure you understand any fees that you have to pay beyond an hourly rate for a performer. Set-up fees, travel costs, and accommodations, for example. Also be aware of any fine print in the contract, such as conditions that allow for suspension or termination if certain extreme circumstances arise. While these are not situations that are likely to occur, it never hurts to be fully informed so you don't get caught unawares when the unexpected arises.



Look to bb Blanc for Corporate Event Entertainment in Toronto
bb Blanc is a full-service, live event company based in Toronto. We pride ourselves on "Creating Event Magic" through the use of the latest technology for audiovisual display and support as well as an arsenal of talented live entertainers. Unsure on what you want? Tap our brains for advice and our consultants will bring their expertise to bear as they work with you to devise the entertainment plans that best suit the needs of your event. For more information on bb Blanc and the unique additions we can bring to your weddings, corporate gatherings, or other occasions, feel free to contact us at 416-360-0440 or at info@bbblanc.com.