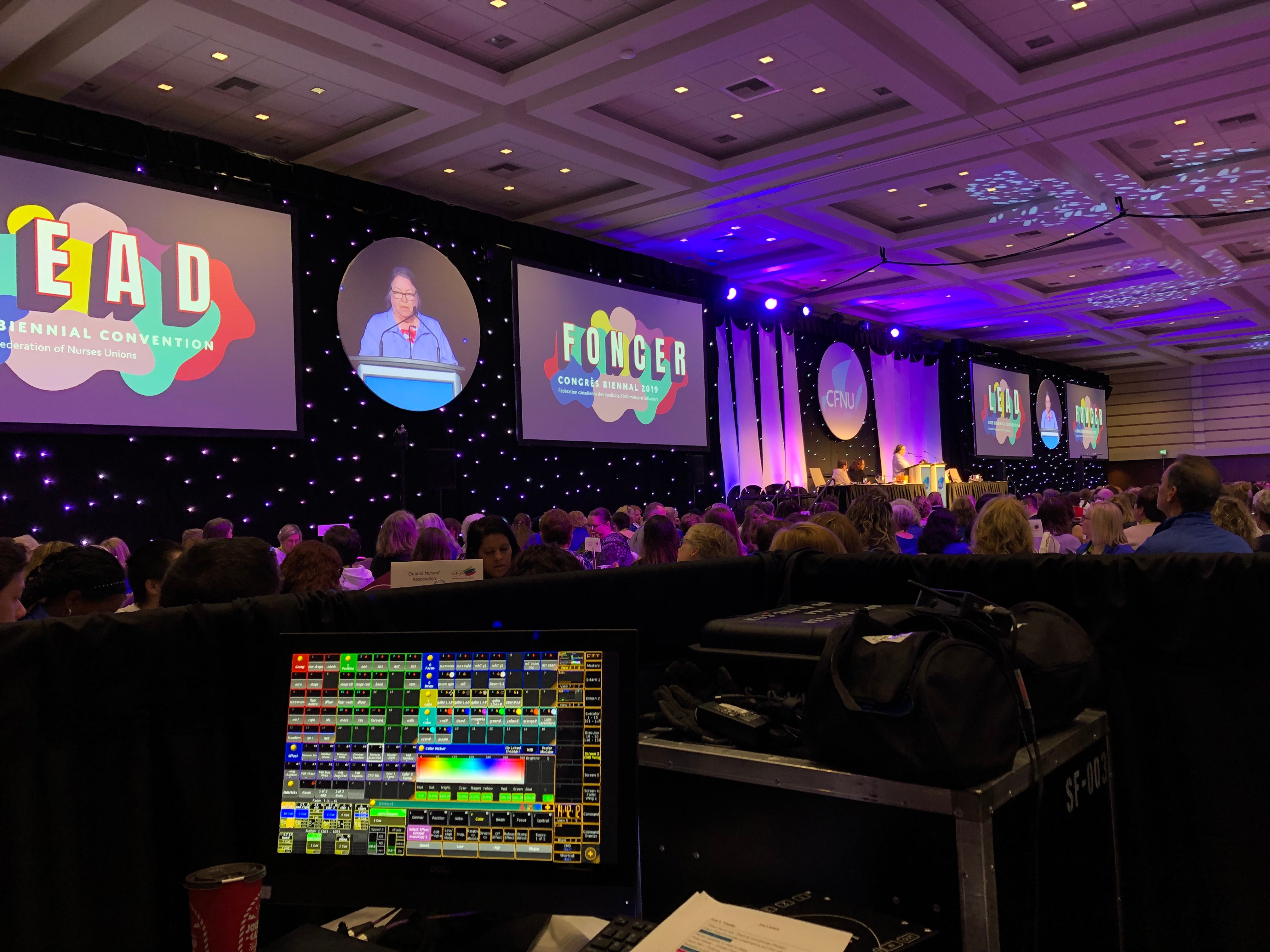 From British Columbia to Newfoundland, representatives from nurses unions and associations from across the country travel to the CFNU Biennial Convention. Approximately 820 delegates met in Fredericton, New Brunswick for four days of training, education, and solidarity.
The Goal
Event goals need to consider both the planners' goals as well as the goals of the attendees. Why are the delegates attending? What can the planner and their vendors do to exceed their expectations? As a recurring event that happens every 2 two years in a different city, each convention has a responsibility to bring new and fresh experiences for the attendees. The delegates are there for training and education, and bring that back their respective associations. They are also there to network and bond with their national peers, so creating a more dynamic atmosphere to enhance communication was essential.
The Challenge
As the CFNU Biennial Convention occurs every two years and changes cities from convention to convention, 2019's chosen city was Fredericton, New Brunswick. Expecting similar attendance to past years, working in a smaller venue meant creatively optimizing the available space while enhancing attendee experience. Also, like in many venues, the audiovisual production team was met with rigging restrictions.
The Solution
To alleviate the rigging restrictions, a ground supported (combined with rigging) set solution was designed. This allowed for the 4 rectangular projection screens (2 flanking either side on the plenary stage), 3 projection- mapped circle screens (displaying the logo and camera IMAG), lighting, and LED drape.
To optimize space and visibility, delay screens were deployed at the back of the room. And for full bilingual communication french and english content was projected both front and back.
To enhance the event design over your standard conference design, we combined the practicality of a corporate event with the excitement and energizing atmosphere of a more theatrical event. The colourful CFNU logo lent itself perfectly to creating a dynamic lighting design.
The Outcome
"We can't say enough about bb Blanc's work for our biennial convention. Literally overnight, they transformed our meeting space from a boring box into a vibrant and dynamic space filled with ambiance.
Throughout our event, the bb Blanc team was professional and friendly, handling changes and requests with ease and confidence. They put on a seamless show that really made our event pop, earning many enthusiastic comments from delegates, guests and staff alike.
bb Blanc is so much more than a standard audiovisual company — they truly crafted a unique and memorable experience for our event. For anyone who wants to set their event apart from the pack, bb Blanc is without a doubt who you've been looking for."
- CFNU