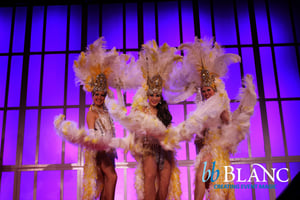 Let's start with the basics: When you look for event entertainment in Toronto, what are your options? Broadly speaking, you can find and book the entertainment yourself, or you can work with one of Toronto's entertainment companies. A party entertainment company is more than just a middleman between you and the performers. These companies are able to provide a number of different services and offer benefits that can't be found by trying to book an act directly. Understanding these benefits, therefore, is crucial to learning why entertainment services in Toronto are so sought after.
The Key Benefits Offered by Toronto's Party Entertainment Companies
A Multitude of Entertainment Options
Every event entertainment company has a roster of performers and acts that you can look through. This provides a one-stop source for a varied and exciting array of possibilities. Between bands (in any number of different genres and instruments), DJs, dancers, magicians, and more, you will be able to find the ideal choice for your party's entertainment needs. If you are unsure about what you want or can't decide, the company will listen to your plans for the event and work with you to identify the best option. Don't forget to ask for sample clips of past performances!
Built-In Quality and Flawless Execution
When an event company sends you an act, they are backing that performance with their name and reputation. This means there is an inherent incentive to only offer you the best and most memorable entertainers possible. You can also rest assured that these are experienced entertainers with countless past event performances under their belt.
Ease of Hiring and Convenience
Entertainment companies help plan and organize the use of their performers. This includes details like coordinating with the venue, arranging for any necessary equipment (speakers, instruments, etc.) to be brought in, and helping you write up the contract and establish communication.
Stress Relief with Insurance
One of the biggest sources of worry when it comes to event planning is the "What if?" Entertainment companies are able to take out a large chunk of this stress by having clear contingencies and plans for different worst-case scenarios. From backup equipment to ready-and-waiting replacement acts, you can rest easy knowing that you won't be left flailing in the wind if something unexpected happens.
Saves Time
Finding acts, comparison shopping, coordinating, drawing up contracts, organizing transportation, all of these and more are unavoidable and time-consuming tasks that come with hiring party entertainment. When using an entertainment services company, these matters are dealt with smoothly and behind the scenes, letting you spend more time on other elements of event planning (or by taking a well-deserved break).
Look to bb Blanc for Party Entertainment in Toronto
bb Blanc is a full-service, live event company based in Toronto. We pride ourselves on "Creating Event Magic" through the use of the latest technology for audiovisual display and support as well as an arsenal of talented live entertainers. When you come to us for party entertainment, we work with you to understand the needs of your event and can offer input or advice on different acts so you and your guests can have the most memorable experience possible. For more information on bb Blanc and the unique additions we can bring to your weddings, corporate gatherings, or other occasions, feel free to contact us by phone at 416-360-0440 or by email at info@bbblanc.com.