About Chateau Le Parc Event Centre
Chateau Le Parc is a new event venue located at 1745 Langstaff Road in Vaughan, Ontario. This high-end hospitality centre is the height of service, customization, sophistication, and artisan experiences. bb Blanc was thrilled to be on hand for @chateau.le.parc ribbon cutting this past September. Here's a fresh look at what went into "Creating Event Magic" for the grand opening of this luxury locale. For more information about the venue, check out its Facebook page.
Atmosphere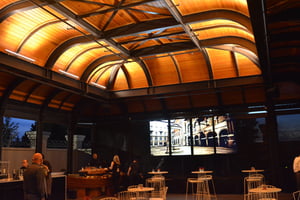 During the initial reception, guests were free to mingle and enjoy the venue. In the background, our atmosphere ultra HD display was beginning to deliver a pitch-perfect band performance in crystal clear visual quality. The four integrated screens provided a dynamic view of individual performers for a unique, eye-catching, and ear-pleasing display.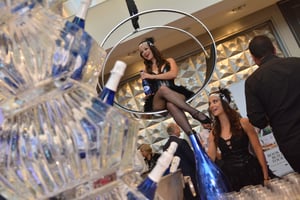 Champagne Pourers
Chateau Le Parc made use of bb Blanc's champagne pourers to provide a unique form of guest interaction. These pourers worked as a pair—one on the ground and the other in an aerial seat—to fill guests' glasses in a manner none had experienced before. Their grace and poise emphasized the overall elegance of the evening's atmosphere.
Music Stylist (DJ)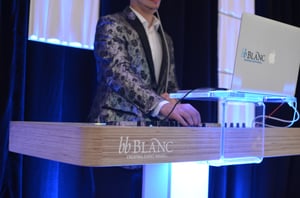 We had one of our amazing music stylists set up in the ballroom to create a VIP musical journey throughout the night.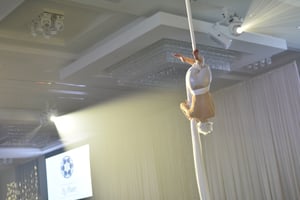 Duo Silk Aerialists
Soon after guests entered the ballroom, bb Blanc's duo silk aerialist performers began their routine. Their graceful, synchronized movements and calm grace enraptured guests as they glided about the silk ribbons as if through water.
Pixel Poi Performer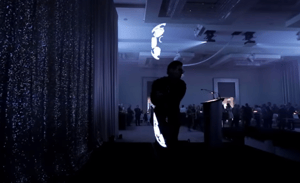 As the evening progressed, they were greeted by the dazzling display of a pixel poi performer. His form was shrouded in dark to emphasize the glowing digital images whirling through the air and dancing about his body. From a distance, it was even possible for guests to miss his body entirely and think the fanciful lights were a computerized display rather than the result of expert dexterity.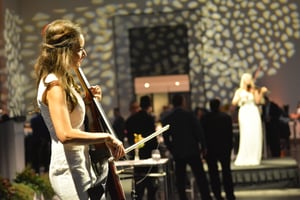 Duo Violinists
Once dining began in earnest, guests were serenaded by the classical artistry of bb Blanc's duo of violin performers. Their energetic performance captured the overall vibe and mood of the evening, creating a two-woman symphony of energy and captivating exuberance.
Lighting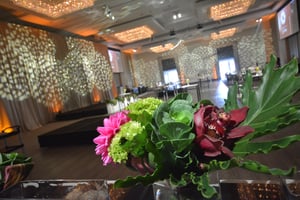 bb Blanc was responsible for the lighting of the ribbon-cutting event, and this can be most effectively demonstrated by pointing to the main hall. This room was lit by a series of soft yellow and white lights targeted upon tables and a set of angular spotlights. The overall effect was a sophisticated atmosphere that helped wrap performers in an entrancing glow. Gobos of firework patterns further helped decorate the walls and curtains.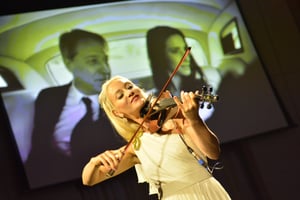 Projection Screens
The main hall was flanked by a quartet of projection screens on the upper portions of the wall. Each delivered crystal clear images of the Le Park brand and showcased Chateau Le Park's beauty and elegance. Together, they offered a visual treat for dining guests and helped drive home the central theme of the evening.
Engage bb Blanc for High Quality Event Entertainment
bb Blanc is a full-service live event company based in Toronto. We pride ourselves on "Creating Event Magic" through the use of the latest technology that helps support a cast of expert performers. Chateau Le Parc was thrilled by our ability to entertain guests and cultivate an engaging and elegant atmosphere for their ribbon cutting, but this was just a small taste of the full range of talent that can be offered to events of any size or theme. For more information on bb Blanc and the unique additions we can bring to your corporate gatherings, weddings, and special occasions, feel free to contact us by phone at 416-360-0440 or by e-mail at info@bbblanc.com.